Gear Up Your School Serving Lines With These Solutions From RPI
School is ramping up to move full swing towards being back in session. When the doors open to welcome students back at the end of the summer, things may look a little different and that's okay. From following social distancing guidelines to adjusting the way we limit capacity in rooms, we've made it through the worst of the unknown during this pandemic.

As things return to normal, getting back into the swing of things might take a little time. With the foodservice industry updating the way your school serving line is prepared to handle breakfast and lunch breaks, serving is being made simple with these easy to implement solutions.
MEET THE FLEXESERVE COUNTERTOP
Built with individually controlled temperature zones, this 2 tiered countertop display allows you to keep prepared food hot and ready to grab.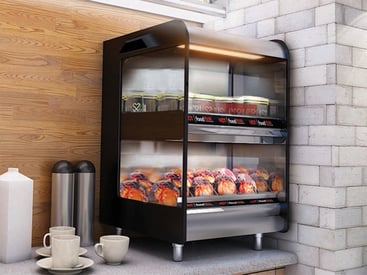 The Flexeserve is made with energy-efficient LED lighting to make food options easy to see while cutting back on the energy expenses.
Need more room? Opt for the 4 tier squared hot display to offer more versatility in selections. Made with stainless steel, both Flexeserve options are durable while also being light enough to move when needed. They take up minimal space and shelving is designed to cater to all heights. Adjust and toggle temperature for each shelf as necessary depending on food items stored, and easily cut off compartments when not in use.
BENEFITS OF THE FLEXESERVE COUNTERTOP
With cafeteria time and eating on campus being slightly different, the FlexeServe countertop provides students and faculty with easy access to food. This helps:
Limit long lines
Keeps students moving
Reduces cross-contamination when grabbing a bite to eat
As shelves become quickly depleted of food, you can easily restock them with open accessibility.
MEET THE OLYMPUS III MC
The Olympus is truly one of a kind.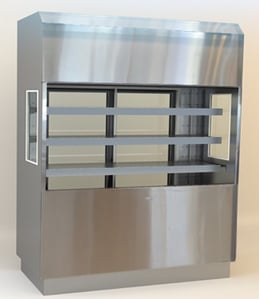 With a removable stainless steel deck pan, hemmed edges contain spillage and allow you to easily clean unwanted messes without disrupting the flow of things. Adjustable legs help when storing a variety of drinks such as bottles of water versus cartons of milk. This gives you more room and makes the drinks appear more organized even during tight fits.
COMBINED ADVANTAGES
Both appliances have shown great efficiency for increasing student meal participation. Not only are they a Covid-friendly way for students to grab food, but they quickly resolve lengthy school lines by assisting in reducing grab and go time. Both the Flexserve and Olympus III MC provide hot and cold service options on the go, making it one of the most efficient grab-and-go opportunities for returning to school.
READY TO GEAR UP FOR THE UPCOMING 2021-22 SCHOOL YEAR?
If you're interested in implementing one of these serving lines or any other type of foodservice equipment in your cafeteria, sign up for our free school foodservice equipment assessment to discover all the different equipment solutions available to you.
Kevin Eaton is the President of Eaton Marketing & Associates and a seasoned Manufacturer Rep in Florida.