Serving Food Safely In Healthcare Facilities
Patients and residents in the healthcare and senior living communities have evolved over the years. Gone are the days of serving everyone the same bland meal at the same time. Having foodservice equipment that is flexible and ensures food safety is as crucial as ensuring everyone's nutritional needs are met.

Keeping Food At Temp
Ensuring that hot foods stay hot and cold foods remain cold is a concern in any foodservice organization. It's an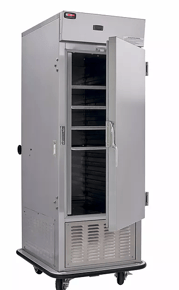 even more significant concern in a healthcare or senior living situation because the customers may have compromised immune systems and often recover from surgery or illnesses. Food between 40°F and 140°F is considered in the 'danger zone,' where bacteria can rapidly multiply, causing foodborne illness. According to the United States Department of Agriculture (USDA), this bacteria can double in as little as 20 minutes, so even leaving food unheated or not cooled for small amounts of time can be dangerous. Carter-Hoffmann provides a variety of transport cabinets so that food is always at the correct temperature. Their Air Screen Refrigerator allows the door to remain open for up to 2 hours and keep the same temperature. Carter-Hoffmann's Hotlogix and VaporPro holding cabinets are perfect for keeping food hot in dining halls, while their Gridless heated cabinets are chargeable and can be used to transport food to rooms or multiple dining areas.
Avoiding Bacteria and Viruses
Another concern in healthcare facilities is keeping residents and patients safe from viruses. Purify your indoor areas with Bluezone by Middleby. Able to be mounted to the ceiling, the system pulls air in, scrubs it free of 99.9995% of all viruses, including the coronavirus, and pushes the clean air back into the room. And don't forget to have Iceomatic ice dispensers throughout the facility to help provide clean ice to keep patients' and residents' drinks cold.
Quiet Service
Serving meals without disturbing patients receiving therapy or taking a nap is easy with Carter-Hoffmann's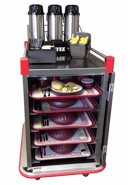 Performance Tray Delivery and Room Service Carts. Built with the patient in mind, the tray carts have sound dampening construction, racks with cushioned ends, and corner bumpers to help protect corners and walls. And with marine rails to contain spills, the carts help prevent patients, residents, and staff from slip and fall accidents.
Interested in learning more about foodservice equipment that will keep your healthcare residents and patients safe? Create your free healthcare foodservice equipment action plan to discover a full range of capabilities.