Six Important Things That Happened at Eaton Marketing in 2018
As we take the leap from 2018 into 2019, we wanted to take a few moments to reflect back on what an amazing year it's been.
We're so grateful for all our amazing customers and the relationships we have across the state of Florida, and we're thankful to everyone who has helped make 2018 such an action-packed year.
What did we accomplish? Let's take a look back at what made 2018 special.
WE GREW. AND WHEN WE SAY GROW, BOY DO WE MEAN GROW.
The year began with a huge expansion of our line card here at Eaton Marketing. As we picked up the entire catalog of solutions from the Middleby Corporation, we grew to offer a wider range of solutions to our customers.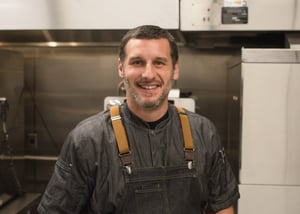 WE ALSO ADDED SOME HELP IN THE EATON KITCHEN AND OUT IN THE FIELD.
If you haven't met Chef Rick yet, you should. A Graduate of the Art Institute of Atlanta and a veteran chef in a range of industries, Chef Rick Pawlak has been an amazing addition to the Eaton team, as his valuable insights have not only helped our customers learn more about equipment solutions, but he's helped all of us learn more about challenges in the industry. Never stop learning!
We also added two new salespeople to help round out our team. Kyle Barber will help out in the South Florida region. Kyle has been a loyal and hardworking employee for Eaton marketing since 2014. Starting as an equipment installer, to now selling the products and everything in between. Lauren Alderman Joel will help out with our North Florida team. Lauren brings several years of foodservice experience to the Eaton team, as well as a competitive background in billiards.
WE DISCOVERED DRAFT COCKTAILS.
The Tobin Ellis Signature Cocktail Station changed the game a few years back by making bar service more efficient while still enhancing the quality potential of the end product. Now, the cocktail station includes a draft cocktail module, which we featured in a unique, interactive content experience in the Eaton blog.
WE LEARNED ABOUT DIGITAL SCROLL COMPRESSORS.
Compressors are what keep our foods cold in walk-in freezers and refrigerators. They're what keep our wine or dry-aging rooms at the right temperatures. They're the only lifeline Florida foodservice operators have between properly storing food products and the extreme Florida heat that can damage those products. Compressors work not by making air inside the walking colder, but by removing the warmer air. Not all compressors are created equal, though. A digital scroll compressor is the most evolved of its species. They are smart enough to match their output with the overall cooling needs of the operation, and they do this through a simple design.
WE BROUGHT THE GARDEN INTO THE KITCHEN.
Hyper-local sourcing was one of the biggest foodservice trends in 2018. The idea of sourcing your ingredients on premises shows a dedication to quality and sustainability. Growing cabinets from Carter-Hoffman can make this happen. They allow operators the ability to provide organic ingredients with high nutritional values and great flavors -- year round. Just plant and grow until you're ready to harvest, which can be as little as seven days.
The story of how ice gets to your glass doesn't begin with how ice is made. It begins with how an ice machine is actually made. Let's take a look at this fascinating process in a short video from the popular TV show, How It's Made. In 2009, the Science Channel took a trip to Denver, Colorado for a visit to the Ice-O-Matic factory. Here's what they discovered, and here's how an ice machine is made.
Thanks again for making 2018 such a great year. We value our relationship with all our customers and associates, and we look forward to working with you in 2019.
As always, if you'd like to talk foodservice equipment, you can always schedule an assessment with an expert at Eaton-Marketing, and we'll help you find solutions that will make your operation as efficient and profitable as possible.