The Importance of Ice Machine Ventilation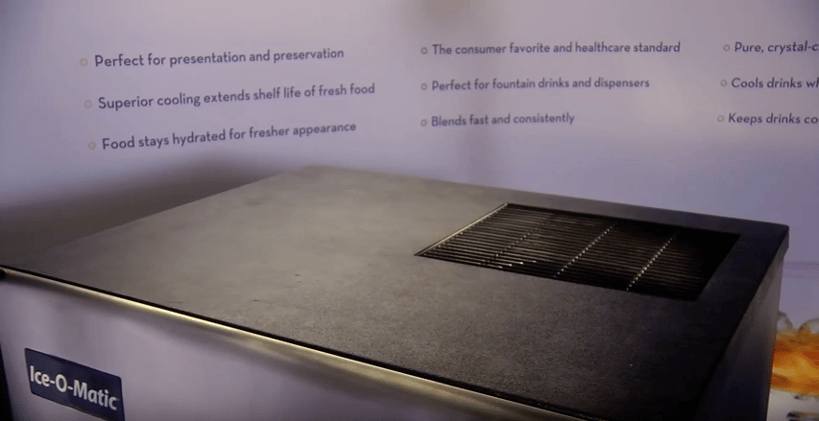 A commercial kitchen or foodservice operation doesn't need more hot air, especially in Florida. When hot air is forced onto food, it can have negative consequences. When it's forced onto staff, it can create negative employees. Neither are good, and that doesn't even take into account the money lost spent on conditioning air.
One of the most overlooked pieces of equipment in a commercial foodservice operation is the ice machine. Everyone thinks ice, and they automatically think "cold." But in reality, in order for water to become ice and for ice to remain cold, hot air must be displaced from the machine. Where that hot air goes can make all the difference, and that's why ice machine ventilation is so important.
Typically, ice machines blow hot air from the side. Because exhaust fans cannot face a wall, this means exhaust must discharge into an open area, otherwise known as the kitchen. This limits where you can place a typical ice machine, as well as what you can place around it. It also creates uncomfortable environments for staff members and can endanger the food they prepare.
Think about it. Hot air can change the temperatures of food. It can impact ambient air by heating up all the conditioned air we value so much here in Florida. And it can make for miserable working conditions.
THE ALTERNATIVE: TOP AIR DISCHARGE ICE MACHINES
Top Air Discharge units are an easy way to maximize the use of commercial kitchen real estate, as well as keep Florida foodservice operations cooler. With a Top Air Discharge ice machine, hot air is directed above the machine eliminating the need for side clearance and preserving the quality and sanity of both food and the staff who make it.
WHO MAKES THEM? ICE-O-MATIC
Eaton Marketing is proud representatives of Ice-O-Matic's made-in-America products. As bar and beverage experts, we can help restaurants and beverage programs realize optimal operation efficiency and profits.
[Get a Free Bar & Beverage Assessment from Eaton Marketing]
Discover the only ice machine that offers Top Air Discharge units. These amazing units from Ice-O-Matic can literally transform your commercial kitchen, no matter what type of ice you're making.
Discover all the sizes and shapes of ice available to Florida foodservice operators in the Ice Guide.