The Ultimate Resource for Pizza Equipment in Florida
This probably won't come as a big surprise, but Americans love pizza. Every second, an average of 350 slices are sold, and when you add that all up over the course of a year, more than three billion pizzas are sold.
Financially, the numbers are even more impressive. With roughly 17 percent of all U.S. restaurants being pizzerias (think about that, nearly one in every five restaurants is a pizza shop), total sales are more than $40 billion annually.
Because pizza is so important, that also means our collective palates are selective. We all have our favorites, and in general, Americans and Floridians alike demand quality. But how can this be assured?
Two ways, really.
First, there needs to be a commitment to ingredients. The best pizzas come from the best flour, the best tomato sauce, the best mozzarella, and the best pepperoni (251.7 million pounds of it annually, in fact). Massive global chains have even made better ingredients part of their tag lines.
The second way to ensure quality pizza is by using the right equipment to cook it. Now to be fair, we understand that quality is a highly subjective thing. As we look at it in terms of equipment, though, our goals should be to create the right heat levels for ideal cooking conditions, doing so sustainably in terms of lowering energy use, making sure the process is fast and efficient, and finally, ensuring all these things add up to a healthier bottom line.
Do you like making money from pizza? You'll love this portfolio of pizza equipment.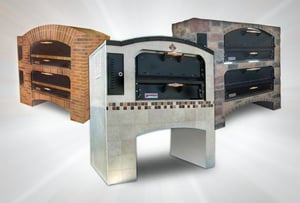 MARSAL MB SERIES DECK OVEN
* Brick-oven bake

* Exclusive burner design for even heat distribution

* Available in full deck and slice size

* Stackable for expanded footprint

* Brick veneer ready

* 2" thick cooking surface stone

* Ultra-high-temperature fiberglass insulation

* Arched brick lined ceiling for efficient temp control and moisture wicking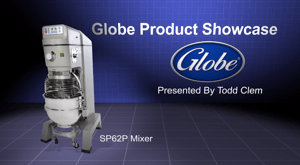 GLOBE FOOD EQUIPMENT SP62P HEAVY DUTY PIZZA MIXER
* Stainless steel, interlocking bowl guard with built-in, fully welded ingredient chute

* Permanently lubricated two fixed speed transmission for reliability

* Holds up to 50 pounds of flour

* Power bowl lift for easy operation

* Industry standard #12 attachment hub can turn the unit into a chopper, shredder, grinder, and more

* Best warranty in the mixer category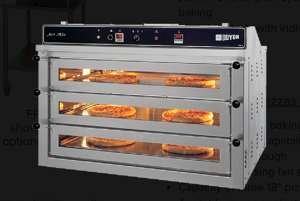 DOYON PIZ SERIES PIZZA OVEN
* Capacity for three or six 18" pizzas

* Bidirectional air flow for a better back without the need for rotation

* Great for frozen or parbaked products

* Can be used for other applications like chicken, nachos, subs, cookies, breads, and more

* Fast recovery, preheat, and baking

* Nickel plated decks

* Space saving design

* Removable stacks for cleaning

TURBOCHEF HIGH CONVEYOR PIZZA OVENS
* Independent variable speed top and bottom airflow

* Simple interchangeable mono-finger design

* Various split belt options available

* Easy to take apart, clean, and reassemble

* Up to 50% faster than traditional conveyors

* Three different size models produce 35 12" pizzas per hour up to 100 pizzas

* Stackable up to three high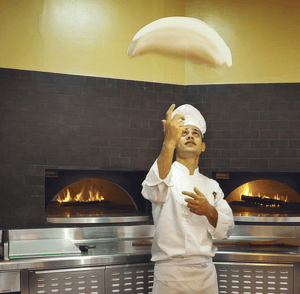 BEECH CUSTOM OVENS
* Complete shape and size flexibility

* Viewing windows

* Internal spotlights

* Different fuel choices including gas, wood with gas assist, wood, and coal

* Easy installation can fit through a 28" doorway

* Eye-catching, spectacular looking equipment that will compliment the design of high end restaurants

* Created their first wood fired pizza oven in 1989
Eaton Marketing can help you find all the solutions you need to build a more profitable pizza business. Schedule some time with us to see how.