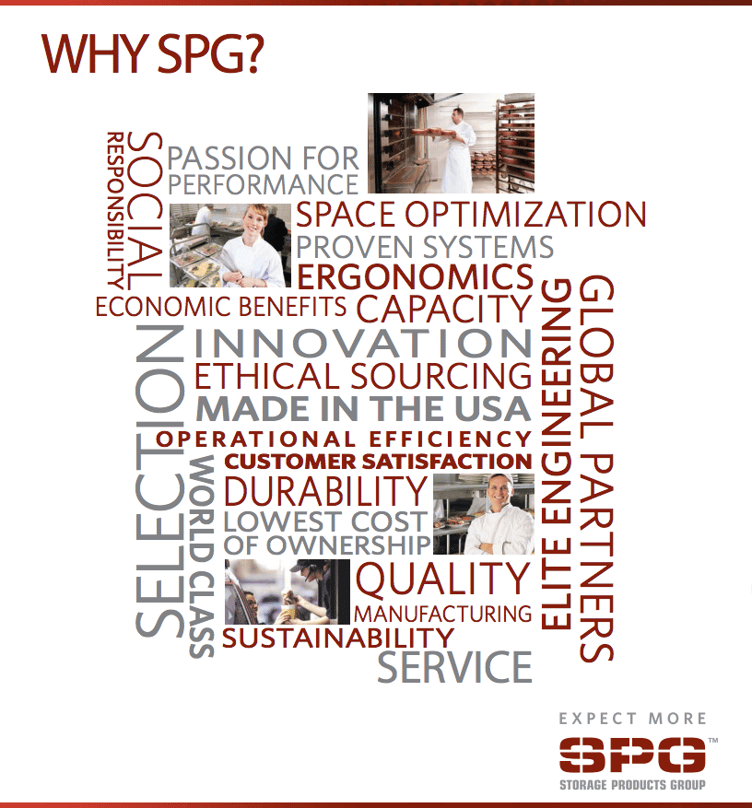 Optimizing the performance and efficiency of your Florida foodservice operation is critical to the success of your operation. And when you look at all the factors that impact the overall efficiency and throughput of an operation, organization comes in at the top of the list.
When a restaurant or school cafeteria uses every square foot available, when ingredients or tools are easier to access, clean, and assemble, the operation stands a better chance of success.
That's where the Storage Products Group can help.
SPG equipment is designed to fit your space, and the way you do business -- reducing the time, motion, and effort your staff needs to complete tasks successfully. And while that might sound great on a theoretical level, when you consider storage equipment that is stronger, lasts longer, and uses the highest quality materials, the equation is simple:
Better Organization + Longer Shelf Life on Your Shelves = Long-Term ROI
At SPG, every product is designed and manufactured to provide immediate value when you buy it, and to continuously accelerate and maximize your ROI over time. To achieve this, we follow a strict, formalized process that results in the lowest cost of ownership for our customers, and that can only be achieved by a holistic approach that addresses three areas.
Need more?
Here are three reasons to consider SPG for Your Florida Foodservice Storage Systems
1) Quality Manufacturing
Incorporating best practices in manufacturing and quality control, SPG is always looking for new efficiencies in production to help lower cost. At the same time, they use only high-quality materials -- and more of it -- to ensure their products last longer, hold more, and provide enduring value.
2) Patented Efficiency Innovations
Using input from customers, SPG products are designed by an elite team so they are easy to set up and install. Beyond that, their designs make inventory easier to access and space is optimized, and that is the ultimate goal along with increasing staff productivity.
3) Total Solutions
Beyond their vast selection of equipment, SPG offers customized sizes and solutions along with consultative services to help maximize the design of your site. Their experience and technical expertise can help you get the most out of your space, your people, and your investment.