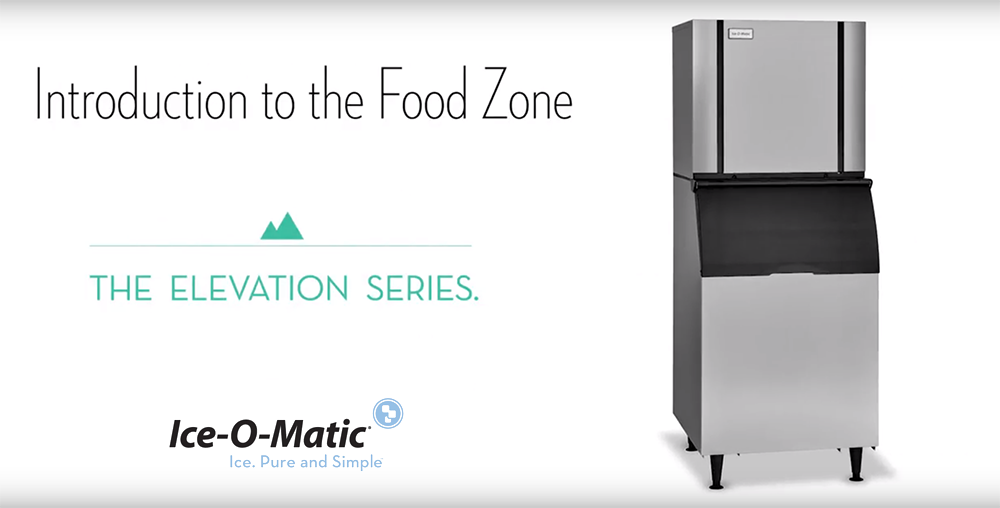 Simply put, ice is food. And like any other food, operators face the challenge of maintaining safety and quality. The taste and flavor of ice is directly tied to the cleanliness of an ice machine. In addition to just poor taste, dirty ice carries with it bacteria that can cause customers and employees to get sick.
Foodborne illnesses, improperly functioning equipment, inferior food quality – all symptoms of an unsanitary ice machine.
[Read the Ice Sanitation FAQs from Eaton Marketing and Ice-O-Matic]
With all that we know about the harmful effect of poorly sanitized ice maker, why would any Florida restaurant, school, or other foodservice operation risk it?
Fortunately, ice sanitation is easier than ever.
Introducing the Food Zone from Ice-O-Matic's Elevation Series
The Elevation Series from Ice-O-Matic has an array of exclusive features that only come with this ice maker. One of those features is a seamless Food Zone. Sealed from mechanical hardware, the Food Zone completely protects the ice-producing area from contaminants.
The Elevation Series ice maker is designed to simplify your life, and cleaning an Elevation Series ice maker is a breeze. Along with the unit's one-touch sanitizing and descaling, the Food Zone is made for easier cleaning and long-lasting sanitation. With a smooth, crevice-free design, the Food Zone allows for easy wipe-down for every day cleaning. With BPA-free and dishwasher-safe parts that snap in and out of the unit.
Go inside the Elevation Series ice machine and see how easy it is to access the dishwasher safe parts that will keep your operation's ice clean and sanitized. Watch the two-minute video below to learn more:
How does the Elevation Series ice maker fare against the competition? Watch this video comparison and see why it's fastest, easiest to clean ice machine available for Florida foodservice operations.