Four Benefits of Marvel's Scientific Freezers and Refrigerators
2020 has brought about the need for reliable freezer and refrigeration storage as pharmaceutical companies and hospitals work together to develop a vaccine for COVID-19. Many vaccine samples or products require that they be kept cool or frozen to a specific temperature. This makes the Marvel scientific refrigerators and freezers an appealing option for your healthcare facility. There are many benefits to this line of freezers and refrigerators. Some of those include:

Maintains the Correct Temperature
Often times, vaccines need to be cooled before administering them to patients or to keep samples at one temperature. The Marvel scientific line offers a powerhouse compressor that quickly returns the appliance to the correct temperature after you open the door to take something out.

You need the peace of mind that your samples, vaccines, and other temperature-sensitive items haven't become compromised due to fluctuations inside a refrigerator or freezer. When you first install your new appliance, you'll appreciate how quickly it reaches the designated temperature so that you can start stocking it immediately.
Third-Party Monitoring
Third-party monitoring is another added benefit with Marvel's scientific refrigerators and freezers. Ensure the safety of your vaccines and samples by being able to remotely monitor your stored items. The third party can also adjust the temperatures to ensure the integrity of your items inside your refrigerator or freezer if needed.
Gone are the days of needing to monitor these temperatures yourself when you could be completing other essential tasks. Your third party can also fine tune your refrigerator or freezer to meet your medical office or industrial company's needs.
Designed for Easy Usage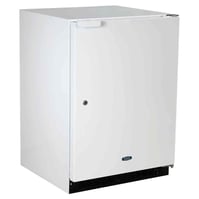 Why spend the money on a refrigerator or freezer only to find excessive wasted space or functionality that doesn't meet your needs. These appliances offer three cantilevered full‐depth perforated metal shelves to provide you and your staff with easy access to each shelf. No more wasting time moving items around to reach things in the back.

Each unit comes with a solid white cabinet and a door lock to protect the valuable items inside. This is especially important if you're dealing with controlled substances and want to limit who has access to the contents. The box-style design makes it easy to mount the cabinet with inventory management system hardware.
Avoid Frost and Keep Air Moving
You don't want frost building up in your freezer when you're storing medications, vaccines, scientific samples, or foodservice items. These freezers and refrigerators feature an auto defrost so the freezer doesn't damage your valuable items. Frost can destroy your valuable products and samples, and it's an expense you don't want to deal with.

These appliances also feature a forced air evaporator system that keeps the air moving around the inside of the freezer or refrigerator. This system also helps to keep the inside at the temperature you select. You can rely on these freezers and refrigerators to keep contents at the optimal temperature and protected from the fluctuations that you find with other units.

The Marvel scientific line of refrigerators and freezers are designed with the medical and scientific community in mind for proper storage of samples, vaccines, and other medications.
Take the next step in properly storing your healthcare facility's vaccines, specimens, or foodservice items. Get a free healthcare action plan assessment today.