[Introducing Jade Range] Comparing the Titan Series with the Bistro Series

Eaton Marketing is proud to introduce Jade, especially because every Jade Range begins with choice materials that are handcrafted by masters of their trade. Welders, fabricators, and everyone involved are committed to respecting the name on the front of the oven.
And that's why Jade is such a good fit with our ideals here at Eaton Marketing.
So as you learn more about what Jade has to offer, the first important distinction is to know more about the two series offered, and how one versus the other might be a better fit for your Florida commercial kitchen.
Introducing the Jade Bistro Series

The Bistro Ranges are rooted in Jade's strong commercial heritage, and has been robustly designed and crated by hand to deliver unparalleled performance and exacting precision. The Jade Bistro Range allows you to customize your high-end show kitchen - without the high-end cost.
Introducing the Jade Titan Series

Each Titan™ Heavy-Duty range features a hand-crafted, solid, all-welded frame for incredible strength & durability. All materials used in the production of Jade Titan™ Ranges are chosen to achieve the longest lifespan, allowing Jade Range to offer a 2-year parts and labor warranty within the U.S. & Canada.
Let's look at a direct comparison between the Jade Bistro Series and the Jade Titan Series.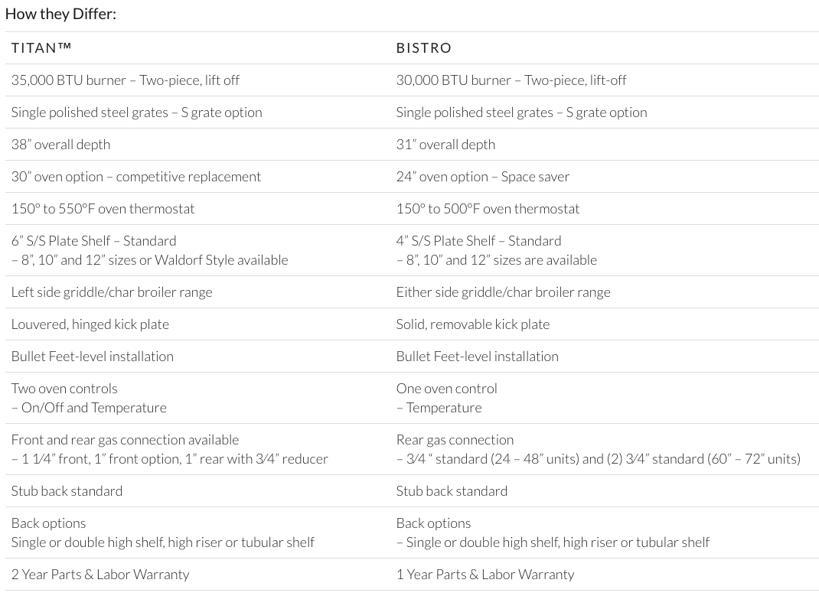 If you'd like to learn more about the details of both the Bisto or Titan Series ranges from Jade, schedule some time to talk with an Eaton expert today.