See How the Firex Cucimix is Every Chef's Best Friend
To be successful in the culinary world, it takes more than simple skills and a set of specialty recipes. It's a mixture of each chef's talent, the equipment available, and the ingredients you'll need for individual dishes. In order to create that savory masterpiece in the kitchen, having the right tools to perfect your cuisine is essential. That's why Firex designed the Cucimix to be every chef's right-hand partner.

WHAT IS THE FIREX CUCIMIX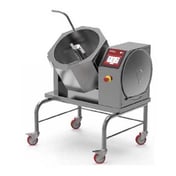 Specially crafted to be an automated multi-purpose industrial cooker, the Cucimix allows you to manage each step during the cooking process independently and easily. The cooker is made up of 7 major components that allow you to perfect the same recipe in any workplace kitchen worldwide.

With a built-in pressure lid, you can reduce energy consumption by 70% and lessen the needed cooking time, leading to the ability to prepare recipes faster and more efficiently. Automatic water filling allows you to fill and hold both cold and hot water with ease up to 90°C. This industrial cooker comes with a 2 or 3 armed mixer that rotates in both directions with adjustable speed to guarantee the autonomy you need. Additionally, the mixer is equipped with Teflon and steel scrapers that you can remove without hassle for cleaning purposes.

Optional drain valves are available and AISI 304 stainless steel feet allow you to safely adjust height and level out the cooker. Included is a temperature regulation probe that provides you with precision so that you retain full control over the cooking process. Lastly, you'll find a touch control screen that provides easily accessible options to make adjusting temperatures, controlling cooking times, and automating the arms of the mixer feel like a breeze.
BENEFITS AND ADVANTAGES
Integrating a Firex Cucimix into your operational foodservice practices is very easy. The compact, all-in-one industrial cooker allows you to automate all of your cooking needs without requiring additional or constant labor during production. It brings you a fully automated brazing pan that adjusts time, temperature, and all of your needs within a recipe without.

To make things even better, the system records cooking data so you can easily program recipes and routinely use them at the simple click of a button. Once your parameters are set for a recipe, it's as simple as pushing start. When and if you need to add any ingredients, the digital display will alert you right on time.

You can efficiently use the Cucimix to cook potatoes, pasta, sous-vide, and a variety of other dishes, transferring instructions for specialty recipes with the quick share of a USB. This makes it incredibly useful for multiple location operations.

Another neat benefit is that the confectionary package jacket walls allow you to add 3 layers of heat with full control of each level up to 212 degrees. This makes it perfect for tempering chocolates for pastries or other delicacies, cooking egg-based cuisines, or when you need to thicken homemade sauces.

The Firex Cucimix allows you to quickly increase the temperature of your food product and maintain it so that there's never a misstep in your cooking process, and the final product retains a high-quality savory finish.
GET A FREE FOODSERVICE ASSESSMENT
Are you considering adding the Cucimix to your foodservice operation? Look no further and get your free foodservice equipment assessment with our Eaton Marketing experts today.
Kevin Eaton is the President of Eaton Marketing & Associates and a seasoned Manufacturer Rep in Florida.