Should I Use a Planetary Mixer or a Spiral Mixer?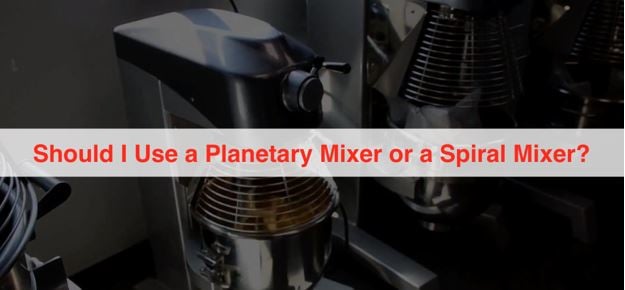 Before you spend money on any piece of foodservice equipment, it's important to know the distinctions between the different options available. This is true for pretty much everything, but it's even more important when it comes to answering the question, "Should I use a planetary mixer or a spiral mixer?"
A bagel shop in North Miami Beach has different needs from a cupcake factory in Orlando. The pastry shop in Jacksonville is different from the high-volume pizzeria in Gainesville. As for the chain restaurant with locations across the state of Florida who is looking for optimal versatility? They have different needs, too.
Should you use a planetary mixer or a spiral mixer? Let's take a look.
PLANETARY MIXERS
With planetary mixers, the beaters, paddles, or dough hooks rotate around the bowl similar to a planet in orbit. This is how the planetary mixer gets its name. Because only the mixing attachment rotates and not the bowl, there's only a single motor.
Planetary mixers are known for their versatility. Pizza dough, cookies, frostings, cakes -- all are possible. With proper attachments, they can also move beyond the standard baking applications, as they can dice, chop, cut, and grind. If operations are looking for an all-purpose option, the planetary mixer is the way to go, and with volumes that range from 10 quarts all the way up to 140 quarts, there's always an option to suit your volume.
Because of the reasons we just mentioned, planetary mixers are by far the most common type of commercial mixers in foodservice.
SPIRAL MIXERS
Spiral mixers, on the other hand, are a bit more specialized. They have two motors, as both the bowl and the dough hook will turn, and because of this different design, spiral mixers have different capabilities.
So when should you use a spiral mixer over a planetary mixer? If you're a high-volume producer of bagels, bread, pizza, and pasta, a spiral mixer will be, well, your bread and butter. When the dough is really important to the success of your operation, the spiral mixer will give you the best dough.
Why?
For starters, the level of synchronization between the bowl and the hook, as well as the rotational speed, can create ideal oxygenation of doughs. When dough is mixed to the right consistency, it performs better in the oven. High absorption ration doughs are also mixable in spiral mixers, and with high efficiency mixing speeds, spiral mixers can significantly reduce operating times.
Spiral mixers are very durable, which translates to lower maintenance. They're available in sizes that range from 30 quarts to over 300 quarts, and if your primary function is to produce doughs without the need to perform other functions, the spiral mixer is the way to go.
Selecting the right mixer can be easier with a little insight from a foodservice equipment expert. And speaking of doughs, we can help you decide on which mixer will earn your Florida foodservice operation a bit more of that dough.