What Are The Benefits Of Countertop Cooking?
And How to Implement It with Equipment from Wells
Is your kitchen too small? Or perhaps it's too big and the fryer is too far from the prep line? Either way, commercial kitchens can often benefit from countertop cooking. With the right equipment, countertop cooking units can help kitchens save valuable space and can increase efficiency.
You should consider countertop cooking if your kitchen is:
Looking to save space.
Countertop cooking devices have little or no footprint. As a result, they save valuable floor space.
Looking to increase efficiencies.
Sometimes workflow in the kitchen can be inefficient at best. With countertop cooking, it's easy to move the heat source right next to the prep tables. Maneuverability has never been easier.
Looking to fill productivity demands that don't require massive units.
Countertop cooking units are great for restaurants that don't need to meet the incredibly high demands provided by more expensive units. Plus, they can be easier to clean and maintain.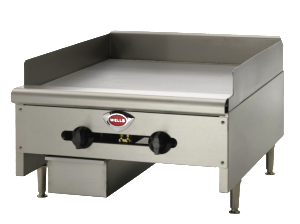 What type of units are available?
Countertop cooking units from Wells include an extensive array of electric and gas-fueled cooking equipment. And for versatility, all Wells gas appliances care field convertible between natural gas and propane. Consider one of these countertop cooking product lines from Wells:
Single Pot Fryers
Dual Pot Fryers
Countertop Griddles
Countertop Char Broilers
Countertop Hotplates
Waffle Bakers
What about after the food is cooked?
Hot food holding is an important aspect of many foodservice operations. Because food cannot always be served immediately after the cooking process, having the ability to store cooked food or even produce food in a cook and hold fashion can make or break an operation. Learn more about Wells and their cook and hold possibilities in this comprehensive guide.
Kevin Eaton is the President of Eaton Marketing & Associates and a seasoned Manufacturer Rep in Florida.