5 Reasons To Go With Ventless Cooking Equipment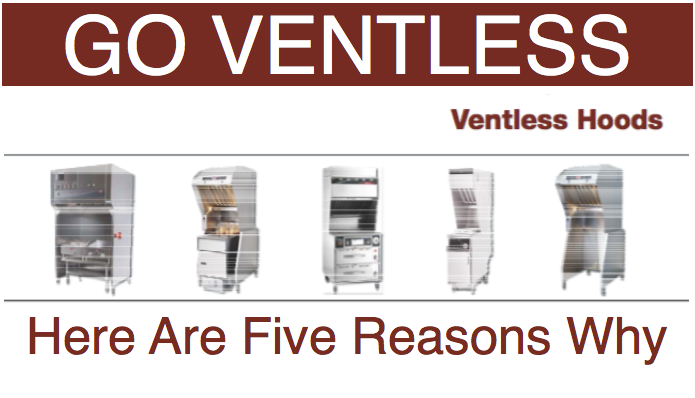 When selecting commercial cooking equipment for your business, there are several options you can consider from a wide range of manufacturers. And as Florida's leading foodservice equipment support team, we get asked one question more than any other.
"Why go ventless? Why should we consider ventless cooking for our Florida restaurant?"
Here are five reasons to go with ventless cooking equipment:
1) YOUR FOODSERVICE OPERATION MIGHT BE LIMITED BY SPACE.
If your business has space issues, installing ventless cooking equipment will allow you to have a top notch cooking system even with a space restriction. It may also open up space for other equipment in your kitchen you've been looking to install.
2) IT FITS THROUGH YOUR DOORS.
The ventless cooking equipment we have installed fits through a standard 36" door. No worries getting into your business. This can be a big holdup with other equipment needs.
3) THERE'S NO NEED FOR BUILDOUT.
There is no need for a hood or exhaust system. Therefore, there is no roof penetration minimizing installation time and money.
4) OWNERSHIP IS EASY.
The operator who buys it, keeps it - and is able to depreciate it quicker. When someone rents or leases a building and puts in a standard hood, the owner gets to keep the hood as it became a part of the building. When you use a ventless hood, it doesn't need to be fixed to the building. Therefore, you get to keep it if you move out.
5) PERMITTING IS EASY, TOO.
Wells Ventless Cooking Equipment meets all approvals for all states. No worries about those strict permitting issues.
Ready to learn more about ventless cooking systems?
Going with a ventless cooking system seems to be a no brainer. If you are interested in learning more about these systems, please check out the guide below to see why ventless cooking might be right for your Florida restaurant or foodservice operation.
Kevin Eaton is the President of Eaton Marketing & Associates and a seasoned Manufacturer Rep in Florida.