Celebrating the Life of Lou Dellaporta
This is truly one of the saddest times we have had here at Eaton Marketing and so it is with a heavy heart that we inform you of the passing of Lou Dellaporta. Lou was a shining example to the six principles of Eaton Marketing. I would like to share with you below what he meant to his colleagues in their own words.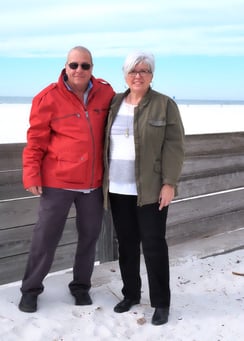 "As a loving husband, father, grandfather, and friend, Lou's experience and willingness to pass on that knowledge can never be overlooked. He helped to pave the way for so many of us in the foodservice equipment industry."

"I always valued Lou's advice and respected his outlook on our industry. Few people have the experience he did and he was always willing to take my call and give me the right advice. The industry lost a great asset, however his legacy will live on to inspire others to work hard, stay focused, and do what is right for the customer."

"Lou would call me by the name 'Compadre.' 'Compadre' represented our instantaneous close friendship and was symbolic of our mutual respect for each other and our shared drive, passion, and ethic. As busy and fast paced as life is surrounding us, Lou and I had the common goal of slowing down enough to enjoy the fruits of the labor."

"Lou has been a second father, a mentor, an advisor, a teacher and a co-worker, but most importantly he was a friend. Sales meetings will not be the same without his years of knowledge and his "entertaining" stories of past experiences. Sure do miss ya, Lou!"

"Lou was not merely a great employee, he was a friend to us. He was always teaching us and always had our backs. And with that said, he will be missed."

"Hey Big Guy! …" That was always his greeting, and he would follow up with, "how are those girls of yours?," or "how is the family?" Lou is the kind of guy you wanted in your corner, to learn from and live through. He had the biggest heart and would do anything for his friends and family. Love and miss that guy!"

"Lou was a man who made a huge footprint in this world. I'm sure most of you know what a character he was. As a salesman he would not take 'no' for an answer. Lou had an unbelievable amount of knowledge and was always ready to share it with his colleagues. I knew if I had a question about any kind of equipment, he was my resource. I remember meeting Lou on a trip to Tallahassee about 17+ years ago. I was sitting at ARS and I heard someone loudly talking on the phone. He sure had a way to make people listen LOL. He will forever be remembered in our hearts."

"I would like to extend my most sincere condolences for this great loss to Lou's family. I will always remember Lou's sense of humor and his ability to share some classic stories. He was always willing to help those new to our industry and was a great mentor to many. He will be truly missed by the Eaton Marketing family as well as the industry he loved."

"Lou was a 'shoot straight' kind of guy. He was always there for advice or to share one of his crazy stories; whichever one deemed more appropriate for the situation. He was one of a kind and will truly be missed."
"I know many of you knew Lou long before I even started walking. He was a pioneer in our industry and had a wealth of knowledge that was unmatched as well as some great stories that I will miss hearing. It was incredible to ride along with him and listen to him take calls, shout out discounts, and work out how to win jobs all while his car was beeping for drifting over the line. I always loved hearing him talk about his love for Fran and how lucky he was to have her help him run the business. There are no words to describe the loss of a friend, mentor, and person with such a zeal for life. One of my favorite censored memories with Lou was finding out that he's terrified of driving over bridges and having to pull over at the Matthews bridge so I could drive him over it. It still cracks me up remembering him rapidly pulling off the road and telling me in no uncertain terms that I had to drive over the bridge. I will always remember him."
Lou has not only left his mark on Eaton Marketing, he has left his mark on the foodservice industry as a whole. He was a talented teacher and his life lessons and wisdom that he shared with us shaped and molded all of us and our industry.
Given the ongoing pandemic, Fran and Lou's family would like to hold off until we can all join together safely to celebrate! We will reach out and let anyone who wants to share his memory know when we plan to have a memorial gathering in honor of our friend and colleague, Lou Dellaporta.
We'd love to hear more stories about Lou's life. We invite you to share your favorite story about Lou below.