The NAFEM Show 13 | All About Relationships
Being my first NAFEM Show, Eaton Marketing thought it would be a good idea for me to take a few minutes and jot down my perpective - through a digital marketing guy's eyes. Yeah, I've had a little experience in the food service industry. I used to sling frozen drink machines in a previous life. But one gets a good taste of the industry as a whole when attending The NAFEM Show.
As cliche as it is, it's all about the relationships. I was truly amazed by the 'hustle' of the entire Eaton Marketing & Associates team. From one meeting to the next... to the next... from one after party to the next... to the next. As soon as the head touches the pillow, it starts all over again. Tiring? Yes. Fun? Of course. Necessary? Absolutely.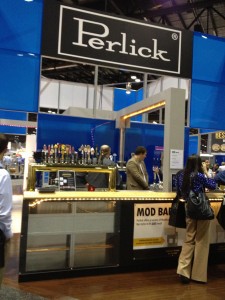 When you have the opportunity to have 'face' time with your manufacturers, dealers, end-clients, fellow suppliers and strategic partners, you take full advantage of it. Hell, it only happens once every two years. You might as well say it's the most important week for the entire Eaton Marketing & Associates team.
I would imagine that this show really pushes the manufactures to introduce new innovated products. I mean, who doesn't want to learn about Perlick's latest and greatest back bar OR better yet, learn more about craft beer trends, right? But I'll leave the technical nuts and bolts stuff for another time.
Being a digital marketing guy, there were a lot of Booths that certainly caught my eye. Perlick is obvious - their booth made me very thirsty. I could have hung out there all day. Enough said.
Thermo-Kool was, well, cool. Figuratively and literally. Their giant walk-in was a perfect spot to share some business ideas.
3M's booth was very Euro - sleek, professional. Pretty cool. Same with Eloma - very fresh and clean. Sehr schoen fellas!
Market Forge is about to make some marketing noise. They have 'awesomeness' written all over their logo and color choices (not to mention their kick ass team). LOVE IT!
Nice presence for RDT. LOVE the 'new' logo (sorry Brent). We will be updating our collateral. Much more coming from these guys. Stay tuned...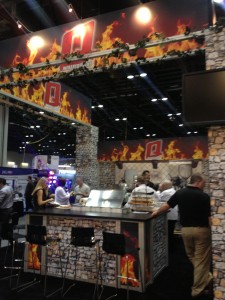 Q Infrared Ovens' booth took the cake (or should I say pizza)! Their booth was HOT! Stone and flame look while serving fresh pies. The booth ties in nicely with their website look and feel. Now if we can just get them to make it easy to connect with them on social media... (working on it).
From a pure digital media perspective, it's a mixed bag. Who was Tweeting during the show? Who was blogging during the show? Who is really trying to connect with their followers via social networks and increase their brand awareness? Beech Ovens is doing a fantastic job and is embracing social media Tweeting and blogging during the show. Moffat, Eloma and Perlick were all engaged with their followers.
In summary, it's all about the relationship. NOTHING replaces nor compares with face-time. And the 'virtual relationship' is gaining a lot of traction in the food service industry. The NAFEM Show may only happen every other year but factories, suppliers, dealers and end-users are enhancing client relationships by engaging with them any time day or night via social networking.
We encourage you all to connect with us online, keeping the momentum from the show going.
See you in Anaheim!
--
Erik MacPherson, Executive Director | Eaton Marketing Brand Ambassador
Kevin Eaton is the President of Eaton Marketing & Associates and a seasoned Manufacturer Rep in Florida.