Serve Drinks All Day Long with the U-Line Nitro Dispenser
Consumer expectations are continuing to evolve when it comes to the beverage segment, and operators who are willing to consider new ideas can ultimately profit from these changes. As in many other areas of foodservice, lines are blurring when it comes to what defines one type of operation versus another, and the same can be said of beverages.
Just consider these examples. You can now buy draught beer in many grocery stores. Premium coffee beverages are available in gas stations and convenience stores. And many coffee shops are also serving cocktails to help maximize the potential of different dayparts.
Ultimately, these changes will likely require food and beverage equipment that can help make these types of services possible. One of those options is the U-Line 15-inch beverage dispenser, which can handle various beverage options with different configurations. From nitro coffee to beer, in an era where beverage menu diversity is critical, U-Line dispensers can be an indispensable part of a commercial kitchen.
Diversify and Maximize Your Beverage Service Day and Night
Hotels, restaurants, and coffee shops are looking for ways to diversify their revenue streams, and the U-Line Nitro Coffee Dispenser could be the best way to do so. It can serve a wide variety of cold drinks. For example, the first tap can help restaurants capitalize on the profitability of nitro coffee, which has become one of the most popular options for coffee lovers, while the other is dedicated specifically to traditional cold brew, providing consistent, delicious, and tasty results every time.
Beverages provide a unique opportunity for restaurants to increase the return on their investments, boosting profit margins with the right marketing strategy. Today, many patrons are looking for commercial establishments that can dispense both cold brew coffee and nitro cocktails, allowing them to spend more time in the same place building strong relationships with their friends, family members, and favorite commercial kitchens. This coffee dispenser from U-Line allows them to do exactly that.
Why U-Line?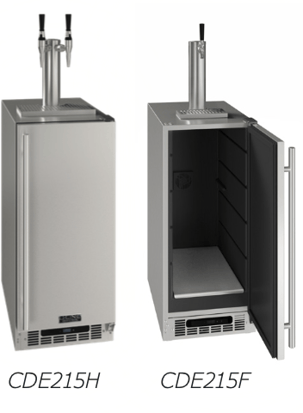 Let's go back to the idea of serving drinks all day long. Coffee, certainly, is mostly associated with the morning and afternoon, while beer is more recognized in the afternoon and evening. With a combination of U-Line's 15-inch dispensers, it's possible to serve both.
For many decades, U-Line has been among the leaders in the industry, focusing on value, quality, and innovation. Providing unmatched ingenuity, U-Line has demonstrated a dedication to crafting products that are both functional and stylish, ensuring that they look not only beautiful but also dispense quality beverages every time. By focusing on the details, U-Line has separated itself from the competition, offering various products perfect for marine, outdoor, and residential locations.
While U-Line provides everything from beverage centers to coffee dispensers, the ease of use and versatility set U-Line apart. Now, the 15-inch dispensers from U-Line provide a unique opportunity for restaurants and commercial kitchens to expand the array of beverages they offer, providing managers and baristas with an edge in a crowded market space.
Learn more about U-Line and other Eaton Marketing beverage solutions and tips. Schedule your free Middleby beverage solution assessment today.