The Best Sugar Cookies Require a Great Oven
What makes a delicious sugar cookie? The perfect sugar cookie should melt in the mouth, burst with flavor, and have a personal touch that makes it unique. Making delicious sugar cookies requires the best ingredients, such as fresh eggs, pure vanilla extract, and quality sugar. Then, all these ingredients must be combined and mixed thoroughly before being placed in a convection oven with all the tools and features to bring out the best in those ingredients.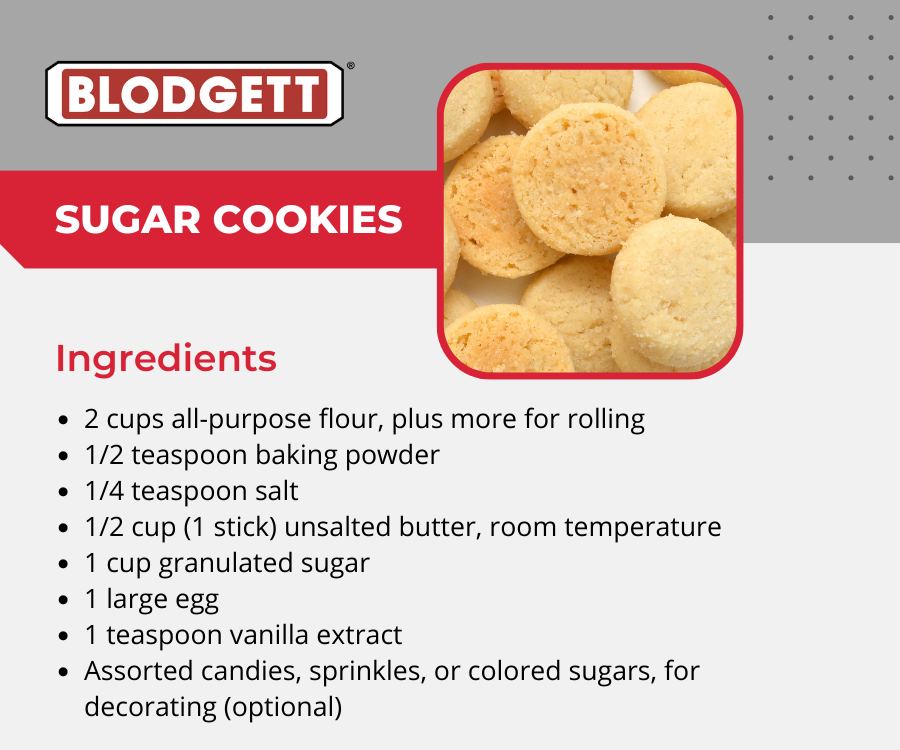 So, aside from great ingredients, what equipment can bring out the best in sugar cookies?
Blodgett Convection Ovens
A strong oven is essential for producing consistent, delicious, and flavorful sugar cookies. One series that has stood out from the crowd is Blodgett Convection Ovens. They have become the gold standard for various reasons, and one of the biggest is they are incredibly efficient and have stellar service records. This makes them perfect for high volume and rigorous use throughout commercial kitchens, particularly those that have to turn out a lot of sugar cookies (and other recipes) in a short amount of time.
For example, in the local area of Florida, Sandals Resorts consistently rely on Blodgett convection ovens for their commercial kitchen needs.
Blodgett DFG Oven Series
There are plenty of Blodgett convection ovens from which to choose, but one of the most popular is the Blodgett DFG Oven Series. There are a handful of ovens from which to choose, allowing users to customize their ovens to meet their needs. One of the most versatile is the Blodgett DFG-100-ES Gas Oven.
This is a full-size, standard-depth oven. It also comes with a reliable and powerful direct-fired gas system. This is a highly efficient system that can handle a variety of recipes. When this system is combined with a two-speed, ¾ HP convection motor, complete with automatic thermal overload protection, the Blodgett DFG-100-ES Gas Oven is not only powerful but also safe.
Furthermore, Blodgett is so confident in the Blodgett DFG-100-ES Gas Oven that it even comes with an impressive warranty. It has a three-year warranty on parts, a two-year warranty on labor, and a five-year limited warranty on doors.
It is even ENERGY STAR qualified, serving as a testament to its energy efficiency, and it can handle up to five full-size baking pans at once, making it perfect for large commercial operations.
Sugar Cookies In The DFG Oven Series By Blodgett
Because Blodgett ovens are incredibly popular, they can be used for just about anything. For example, numerous operations have relied on Blodgett convection ovens to make the best sugar cookies. Typically cooked at 350° F, they are right in the wheelhouse of Blodgett convection ovens. While sugar cookies have evolved significantly over the past few years, they remain one of the most popular dessert options.
Sugar cookies come in various styles, and the versatile nature of Blodgett convection ovens makes them just about perfect for all sugar cookie recipes. Their durability, reliability, and power mean that they can handle just about anything that commercial kitchens throw at them. As commercial kitchens look for ways to modernize while reducing overhead expenses, Blodgett convection ovens are sure to be a reliable standby for years to come.
Live from the Eaton Marketing Kitchen:
Are you ready to see the Blodgett DFG oven in person for yourself? Eaton Marketing knows Middleby brands inside and out, and we'd love to connect in the kitchen for a training or review session.