3 Ways to Increase Participation in Your School Nutrition Program
The sustenance that schools provide to Florida's students shapes their growing bodies and helps to set them up for success in the classroom. School nutrition directors are always looking for new and innovative ways to provide vitamins, nutrient-rich fruits and vegetables, and other forms of nourishment to help students reach their intellectual and physical potential. But the only way that school nutrition programs can play a role is when students buy meals.
The following three proven ways can boost participation in school nutrition programs in learning institutions throughout Clearwater, the rest of Florida, and beyond.
Start Early with Coffee and Breakfast
Increasing student participation in school cafeterias is much easier with fresh fruit, coffee, fortified cereal, and the occasional treat of simple carbohydrates like a bagel or muffin. It's no secret that most high school students down energy drinks or caffeinated sodas without a second thought, so instead of steering them toward sugary, chemical-laden beverages, schools can provide coffee service that promotes engagement, as well as dairy consumption included in nutritional standards.
For older students in high school, this is also an opportunity to develop business education built around a coffee program, teaching students and earning revenue for the school. Prioritize early morning nutrition with coffee along with nutritious breakfast options, and students will stand a much better chance of fulfilling their academic potential in more ways than one.
Food Court Style Offers Many Options
Serving better school lunches is much easier by adding a food court. Food courts at malls, airports, and college campuses are quite popular for good reason. People, including students, love choosing between various delicious food options, and a school food court provides students with the all-important freedom of choice. This freedom of food selection encourages students to remain onsite for lunch.
School foodservice that resembles styles that are familiar outside of school can help encourage participation, and they can also provide wider menu selections. Numerous cuisine options empower students to expand their culinary boundaries, and they can also attract a more diverse student population. Ultimately, school cafeterias designed like food courts will empower students to make their own choices in an environment that doesn't necessarily feel like school.
The Profitability Of Pizza
Pizza is a lunch staple across American schools for good reason: it tastes amazing, is economical, and contains ingredients from different levels of the food pyramid. Though pizza is stereotyped as unhealthy, the truth is it has the potential to be a nutritional powerhouse if prepared correctly. Wheat pizza dough combined with low-fat cheese and fresh vegetable toppings creates a nutritional whole greater than the sum of its parts.
Serving better school lunches with fresh pizza keeps students interested in onsite offerings primarily because nearly all pizza satisfies the tastebuds. From plain cheese pizza to traditional pepperoni pizza, supreme pizza, fancy Margherita pizza, and all the options in between, every style of pizza pie is sure to hit the spot. Pizza is also enjoyed by teachers, nutritionists, and students alike as it contains essential carbohydrates that energize youngsters for optimal intellectual and physical performance throughout the rigors of class and gym. Add in the fact that preparing pizza can be cheaper than other lunch options, and there's all the more reason to feature it as the focal point of every school lunch menu.
Old School vs. New School Event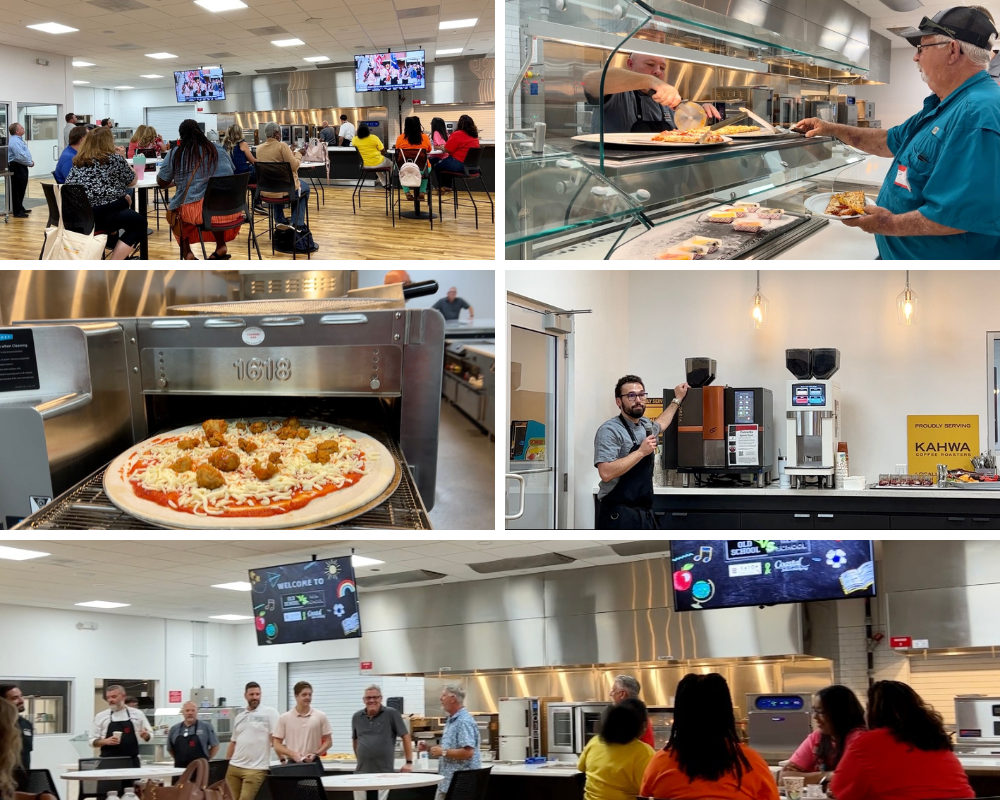 The Eaton Marketing Old School vs. New School event was held on June 15. It included a mix of hands-on learning and foodservice equipment demonstrations for school nutrition staff across Florida. The principles in this blog were part of the program, and several top equipment brands from Eaton were present to discuss their respective school nutrition challenges.