[New Line] The Brilliant Designs of Varimixer

Strong as a bear. That is the motto that embodies the strength and expertise of Varimixer, a new line available through Eaton Marketing. Founded in 1915 by a mechanical engineer from Denmark, "the bear" has been the symbol of craftsmanship, quality, and ground-breaking design and function for more than 100 years of manufacturing.
Let's take a quick look at the solutions available from Varimixer.
Varimixer's solutions are ergonomic, hygienic, and easy to clean. This comes from more than a century of product development focused on in-depth knowledge.
TEDDY
This professional 5-liter mixer is great for accomplishing small tasks in a wide range of establishments. From bakeries to restaurant kitchens, the strength of TEDDY will handle hard demands for years to come.
RN
With both 10- and 20-liter mixers, the Varimixer RN series is great for bakeries, confectionery, catering, and fast food production. For operations looking for both power and flexibility, floor or table mounting, the RN series is a logical choice.
KODIAK
Winner of a Kitchen Innovation Award from the National Restaurant Association, the KODIAK is easy to operate and requires no heavy lifting. And as it's KI award indicates, it is the most hygienic mixer on the market.
AR
This is a legendary mixer. The AR series meets demands for rugged, powerful mixers, and they are manufactured in 30, 40, 60, 80, and 100-liter options. The AR series includes variable speeds and ergonomic features that save time and make operation easier.
ERGO
By creating a process that saves time, money, and increases productivity, the ERGO uses ergonomics the eliminate the need to detach tools when lowering or removing the bowl to begin the next batch. The Varimixer ERGO comes in 60, 100, and 140-liter options.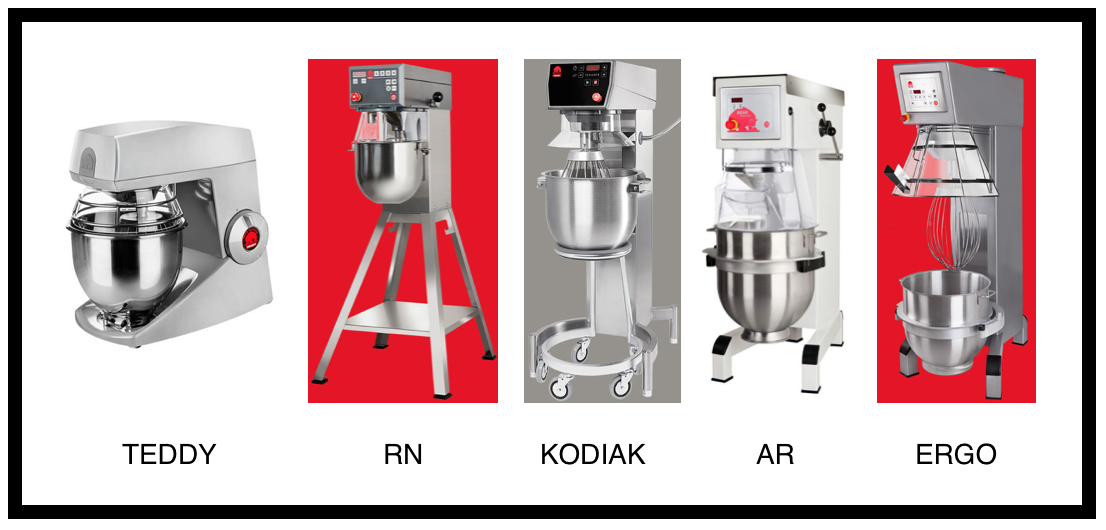 Would you like to discover more features and benefits of the Varimixer line? Get a free foodservice equipment assessment from your friends at Eaton Marketing.