Up Your Sandwich Game with Varimixer and Globe
When you run a restaurant or food service company, you know that there is one menu category that has something for everyone — sandwiches. Whether it's turkey and Swiss cheese or pastrami and provolone, sandwiches tend to appeal to even the pickiest customers. Sandwiches make a great meal any time of day. Of course, it needs to be a really amazing sandwich.
So how do you create an amazing sandwich that keeps your customers coming back? Well, you start with the bread.
THE BEST BREAD MAKES THE PERFECT BASE
You can't have an amazing sandwich on stale, unappealing bread. This means you need to make it yourself. You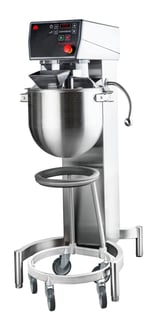 might be a little hesitant to make your own bread because you fear it takes too much work. First, you need to mix the ingredients, and then there's all that kneading. For bread to bake up golden brown with the right consistency, you need to mix it just right.
No worries. Varimixer has a solution for you. These large mixers are tailor-made for restaurants and foodservice businesses. You can choose between a mixer with a 20 or 30-liter mixing bowl.
For your convenience, you can place the bowl on the trolley and roll it around your kitchen to gather all the ingredients. Once you've assembled the mixture, roll the trolley back in place and use the handle to secure it in place for mixing. A rubber ring keeps the bowl securely in place while you move it around the kitchen.
Once you start the mixer, it blends and kneads the dough to the ideal consistency. You don't need to worry about kneading it too much or too little. You get the ideal consistency for your dough each time. The polycarbonate safety guards make it easy to see the dough as it's mixing, so you know when it's ready.
There's also a filling chute to make it easy to add hot ingredients without making a mess or burning yourself. The Varimixer is the ideal way to start making your own bread for the best sandwiches.
SLICED MEATS AND CHEESES
Everyone has their favorite meat and cheese when it comes to sandwiches, and some people prefer thick slices while others want them paper-thin. You need a slicer that can handle the job. The Globe GSO12 is the right slicer to build the perfect sandwich. The 12-inch carbon steel blade can cut slices of meat and cheese up to a thickness of 1-1/16-inches.
This slicer features a wide surface and doesn't have a motor hump to take up space. You can build your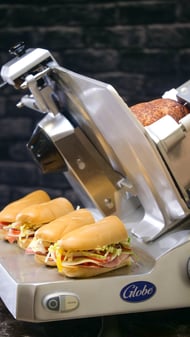 sandwich on the slicer, so there isn't a large mess to clean up between sandwiches. You can also use the space to fill catering pans or shingle pieces of meat and cheese onto a deli tray.
When it comes time to sharpen the blade, you don't need to go looking for the sharpener, it's attached to the slicer. The non-slip rubber feet keep the slicer securely in place while you're slicing and changing out products. For added protection, the slicer has a permanently attached ring guard to protect your hands from accidental cuts or nicks.
When you need to clean the slicer, you can easily tilt the table and reach all the nooks and crannies. The slicer's design makes it easy to sanitize, so you don't need to worry about cross-contamination when you're slicing different types of meat.
When you're ready to up your sandwich game, you need the right tools to make fresh bread and slice your meats and cheeses to perfection. Get a free Foodservice Equipment Assessment with our experts at Eaton Marketing.
Kevin Eaton is the President of Eaton Marketing & Associates and a seasoned Manufacturer Rep in Florida.