Growing and Serving the Freshest Microgreens While Also Saving Money
Eating local has been a popular trend among diners for a while. But have you heard of the hyperlocal trend? One of the hottest food trends for several years, hyperlocal means not just sourcing foods from local farms, but also sourcing fresh ingredients from your own kitchen!
Growing microgreens onsite is very environmentally friendly since there is no packaging and shipping involved. It also means you can always have fresh greens available on your menu, no matter what the weather is like outside.
Microgreens from your own micro garden
The GardenChef Growing Cabinet from Carter-Hoffmann allows you to grow fresh herbs and those wildly popular baby greens right in your own kitchen. Since the grow units take up mainly vertical space, they're relatively easy to fit into a kitchen or service area. This is helped by the different configurations available. Choose from double-door, single-door, and even under-counter models. Roll-out drawers allow you to easily harvest your fresh greens as needed.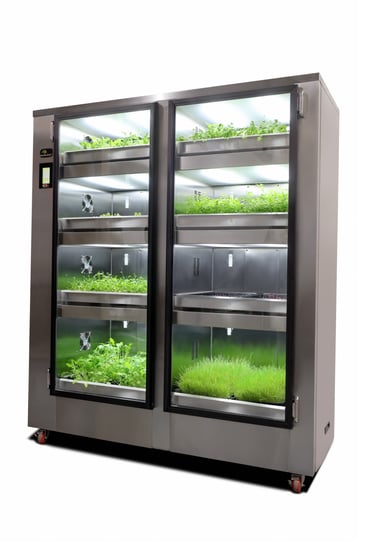 The stainless steel and tempered glass construction make the GardenChef a stunning visual showpiece. This is especially true when the sleek, modern cabinets are filled with lush greenery!
Gardening at the push of a button
The attractive, enclosed cabinets feature a fully automated, programmable ecosystem. The touchpad controls allow you to customize each growing zone according to what's growing in it. There are between one and ten growing zones, depending on the model. Just set the program for the lighting intervals and watering schedule recommended for your chosen 'crops' and the cabinet will do the rest. It will even optimize air circulation and monitor the water quality for you! The natural result is high-quality, supremely fresh microgreens at your fingertips.
There are 39 pre-programmed settings for the most popular microgreens as well as customizable settings, in case you want to grow something a bit more unusual. You can produce whatever organic, sustainable greens you choose for your menu, in the quantities you need. You'll no longer be forced to use just what's available from vendors.
Since bulk seeds generally cost less than ready-to-eat microgreens, you'll save money both on the cost of the product and the labor involved. No more hours spent picking through greens and discarding those that are black and slimy. You'll be picking living plants as you need them, so they'll never have a chance to go bad!
Adding colors, flavors, and textures to your menu
Customize your menu according to what you have growing at the moment. Or customize your garden according to what you plan to put on the menu in a couple of weeks. Yes, they do grow that quickly! Depending on the varieties you choose, microgreens are ready for harvest between 10 and 30 days from planting.
With a GardenChef Growing Cabinet, you can grow a diverse range of intensely flavorful and nutrient-dense greens. Besides a wide array of tiny vegetables and lettuces, grow fresh herbs such as basil, chervil, dill, fennel, shiso, and sorrel. They'll add their own unique textures and intense flavors to the mix. They'll also ensure your cocktails are extra aromatic and flavorful. You can even add a delicate floral note to salads or desserts with micro flowers.
Invest in GardenChef Growing Cabinets and ensure that you are using the freshest, most flavorful microgreens available!
Get an up close and personal view of the best foodservice equipment while attending our In The Weeds events at our Clearwater test kitchen. Click below to find out more!