New Foodservice Solution: Introducing Imperial Range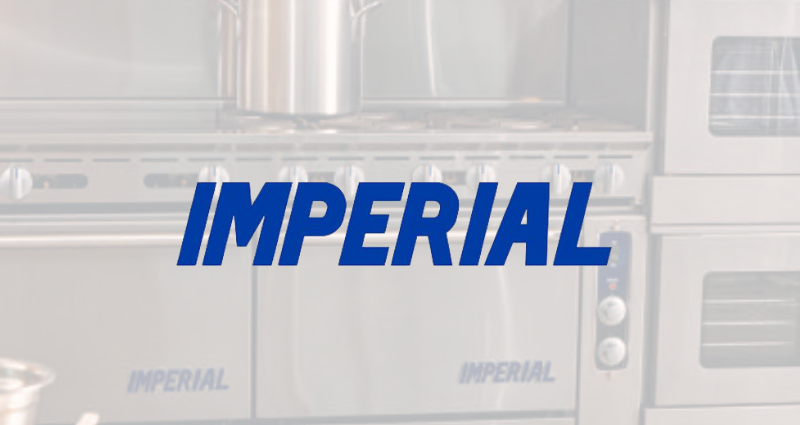 Creating great food is a collaborative process. It takes great ingredients, the creativity of a chef, the knowledge to execute the dish, and effective foodservice equipment that can deliver quality and consistency. The best tools can be the difference between a fine but forgettable dinner and one that lives long in the memory, and Imperial Range, our latest addition to Eaton's impressive portfolio, exists to help customers achieve these high-end goals.

Imperial is a family-owned company based in Corona, California, and for over 60 years, they have aspired to serve those in the foodservice industry with high-quality cooking equipment. Their array of products is varied enough to satisfy many cooking styles. Here is a basic overview of what they sell:

Gas Spec Series: The Imperial Gas Spec Series includes open burner and hot top ranges, griddles, planchas, broilers, fryers, sizzle and chill, and more. In just this project segment alone, it shows the full versatility available from Imperial.
Electric Spec Series: For operators looking for electric-powered equipment, this line of Imperial products includes restaurant ranges, broilers, stock pot ranges, convection ovens in various sizes, fryers, hot plates, and griddles.
Gas Pro Series: The Imperial Gas Pro Series is also a versatile project segment including broilers, hot plates, griddles, salamanders, various-sized ranges, convection ovens, and accessory options to go with.
Electric Pro Series: The Electric Pro Series contains ranges in a wide assortment of sizes spanning from a 24-inch range all the way up to a 72-inch range.
Gas Fryers and Filter Systems: Looking for fryers to go with your other Imperial cooking equipment? Consider tube-fired fryers, open pot fryers, as well as filtration systems to go with each option. Imperial also makes a pasta cooking station.
Gas Broilers: This can be the lifeblood of the kitchen, and Imperial offers Steakhouse Broilers, Radiant Countertop Broilers, and broilers made for chicken.
Gas Counter Top Ranges: With open burner combinations that can be manually and thermostatically controlled, Imperials helps operations make the most of counter space.
Gas Specialty Equipment: Culinary curiosity is at an all-time high as diners look to tastebud tourism for exploration. Imperial delivers with Teppanyaki Griddles, Chinese Ranges, Stock Pots, and Wok Ranges.
There's a tremendous amount of detail and effort that goes into producing these tools with such a high standard of quality. With highly-skilled workers and cutting-edge technologies, Imperial is dedicated to advancing product development and improving efficiency.
If you are interested in bringing any of Imperial's products into your kitchen, you can contact us to schedule a free foodservice equipment assessment from our expert Eaton staff. We will first assess your current needs before exploring ways to instigate any necessary changes, and making moves to further your future ambitions. Our goals are your goals: we'll work with you in order to find the best solution for your situation.
Kevin Eaton is the President of Eaton Marketing & Associates and a seasoned Manufacturer Rep in Florida.