Experience Short Lead Times for Commercial Kitchen Equipment with Southbend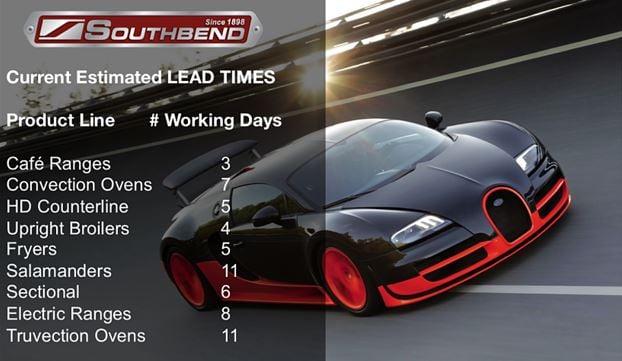 Southbend recognizes the need for short lead times for commercial kitchen equipment with Southbend in today's fast paced commercial food service industry. The Ship Happens program answers this need with a SAME DAY shipment guarantee on a variety of dealer showroom products.
Get the quality you deserve with Southbend products for that customer who is in a hurry. Our best selling products are in stock and ready for instant shipping to your warehouse or direct to your customer!
Experience the Southbend Ship Happens Program, and enjoy same day shipping, large inventory selection, and high quality. Select models are available in the following product categories.
- Ultimate Series Range line
- S-Series Range Line
- SL-Series Convection Ovens
- B-Series Convection Ovens
- Heavy Duty Counterline
- Counter Steam
Ready to learn more about the potential of a Southbend range? Meet the ultimate commercial kitchen range for your Florida foodservice operation today, or contact Eaton Marketing directly if you'd like to schedule a demonstration.
Kevin Eaton is the President of Eaton Marketing & Associates and a seasoned Manufacturer Rep in Florida.