[New Lines] Things Are About to Get Crazy at Eaton Marketing
Things are starting to sizzle here at Eaton Marketing. Beginning on April 9, you can now find most of the Middleby foodservice solutions brands at Eaton Marketing. We're excited to announce a whole range of brand new solutions, and here's a quick rundown of the Middleby catalog now available through Eaton.
ANETS - In 1937, Anetsberger Brothers entered the foodservice equipment industry with the introduction of its first thermostatically controlled counter fryer. Since then, ANETS has developed numerous other product firsts, including automatic lifts on gas fryers, automated production tables, pyrolytic self-cleaning char-broilers, dough rollers with built-in dough dockers, and many more. Every new product innovation has reinforced what has become ANETS' longstanding reputation for quality and reliability. And that's why today, at Anetsberger Brothers, we can still say we're proud to offer your best value in foodservice equipment.
BEECH - Beech Ovens product range is comprehensive and designed for commercial kitchens. The range includes stone hearth ovens, wood fired ovens, gas fired ovens, electric stone hearth ovens, pizza ovens, duck ovens, tandoors, rotisseries, bread ovens, standard and specialty char grills as well as churrascos, teppanyaki, shawarmas, charcoal ovens, fire pits and parillas. They even design and manufacture custom-made fireplaces.
BLODGETT - Blodgett commercial ovens are great for a wide range of foodservice operations, from healthcare to schools. They started in 1848, when they sold their first oven to a tavern owner in Vermont, and they've remained true to that original goal: providing a high-quality commercial oven to every customer.
CARTER HOFFMAN - Carter Hoffman's never-ending company mission is to be the industry leader and the brand of choice in holding and transport equipment. Product expansions last year included new items like Gridless® heated and refrigerated transport and banquet carts, Mobile Bistro direct dining cart for healthcare facilities, expanded line of Refrigerated Transport Carts, and GardenChef® micro green and herb growing cabinets.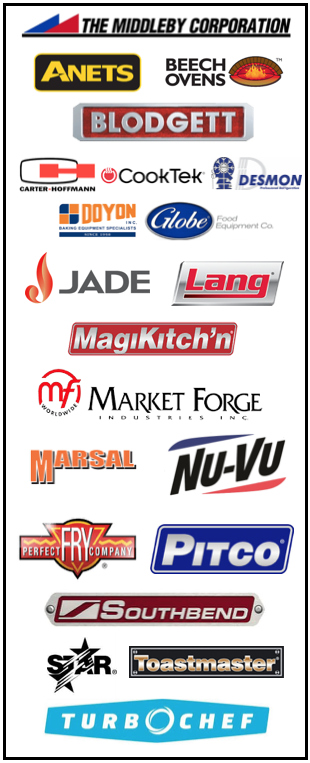 COOKTEK - CookTek brings professional kitchen equipment to a whole new level with advanced, efficient induction cooktops, countertop burners, food warmers and more. Professional cooks in commercial kitchens enjoy higher productivity, substantial energy savings, safer cooking environments and, most importantly, better quality food using induction cookers. Discover the Benefits of Induction.
DESMON - Those who choose Desmon know that they obtain a huge selection of products produced by the superior ability of Desmon workers, from the body to the smallest detail. Innovative design principles, the highest quality of materials and state-of-the-art manufacturing technologies are combined to create refrigeration and heating products that withstand the tests of time and exceed customer expectations.
DOYON - Doyon equipment inc has been a manufacturer of bakery and pizza ovens for more than 50 years. The Doyon trademark is recognized for its quality and service, and the enterprise exports its products all over the world. Doyon Equipment has taken upon itself to satisfy or surpass the expectations of our customers and remain a leader in the field.
GLOBE - Globe's dedication to quality manufacturing, exceptional service, and value is well known. Not only for our broad slicer and mixer selections, but also for our expanded line of countertop grills, fryers, cookers and scales.
JADE - From its inception in 1968, Jade Range LLC has been committed to providing the best in quality cooking equipment. Today, this commitment continues as we strive to deliver a durable, efficient, sustainable product with an unbeatable two year parts and labor warranty. With a vision towards the future, Jade Range is continually redefining technology with regards to design, engineering, manufacturing, quality control and customer-oriented service.
LANG - Proudly manufactured in Smithville, TN, Lang foodservice equipment includes convection ovens, griddles, ranges, and more. With great warranties and industry-leading technologies, Lang is designed for the future of your kitchen.
MAGIKITCH'N - MagiKitch'n has provided charbroilers, griddles, refrigerated bases, and even mobile catering equipment since 1942.
MARKET FORGE - Many top restaurants around the country have discovered that steam cooking isn't just about cooking quickly; it's about cooking well. And as more chefs and restaurateurs discover the advantages of steam, they're discovering Market Forge. With over 350 different models (the most in the industry), Market Forge is uniquely positioned to fit your need. So whether you need to cook fresh lobster bisque or a whole lot of hot dogs, the Market Forge lineup will meet your demands.
MARSAL PIZZA OVENS - For over forty years, Marsal has manufactured exclusive, innovative commercial deck ovens that have revolutionized the pizza industry. We strive to produce the highest-quality pizza ovens for the food service industry. We are committed to being the innovator of pizza ovens and will always work to improve our product designs as well as our ability to meet the needs of the industry.

NU-VU - NU-VU products include baking ovens, oven-proofers, proofers, pizza ovens, and even smokers and cook n hold ovens. NU-VU oven/proofers, used extensively worldwide in national chains for over 25 years, provide a complete "baking center" in one unit. With more than 25,000 units sold worldwide and counting, we are the industry standard for "On-Premise Baking".
PERFECT FRY COMPANY - Perfect Fry commercial ventless fryers are the best deep fryers of their kind on the market! Designed as a professional fryer for restaurants and concessions, Perfect Fryers produce up to 90 pounds per hour of perfectly cooked French fries, onion rings, chicken and other deep fried foods.
PITCO - In 1918, our goal was to offer a simple, reliable piece of kitchen machinery for professional frying. For over 80 years, Pitco has designed equipment that makes it easier for our customers to offer the best in fried foods. Pitco has been an industry leader in design, research, and delivering new ideas for frying.
SOUTHBEND - Southbend, a division of the Middleby Corporation, is recognized as a global leader in heavy-duty, commercial cooking equipment. With perpetual new equipment innovations in the areas of energy savings, cooking speed, automation and safety, Southbend products are considered the best in the industry by chefs, consultants and industry experts.
STAR - With heavy duty gas and electric griddle, charbroiler and hot plate categories, as well as our world-class toasting, panini sandwich grill and hot dog product solutions, Star is among the largest manufacturers of heavy duty commercial cooking equipment in the world.
TOASTMASTER - Toastmaster's Convection and Deck ranges are the most economical and flexible ranges in the food service industry. Toastmaster griddles provide unsurpassed performance, combining a proven control system with Toastmaster quality and durability. As for their smokers, there's is nothing like the aroma of real wood-smoked foods to increase sales.
TURBOCHEF - Since 1991, TurboChef Technologies, Inc. has pioneered the world of rapid cooking. With innovation and top performance in mind, TurboChef has redefined cooking efficiency by designing rapid-cook ovens that are versatile, user-friendly, and save energy. TurboChef ovens cook faster and produce consistent results without compromising quality.
WELLS - Countertop cooking units from Wells include an extensive array of electric and gas-fueled cooking equipment. And for versatility, all Wells gas appliances are field convertible between natural gas and propane. Consider one of these countertop cooking product lines from Wells: Single Pot Fryers, Dual Pot Fryers, Countertop Griddles, Countertop Char Broilers, and Countertop Hotplates.
Schedule some time to talk with an Eaton expert today about any of these solution lines from Middleby.