Introducing the Countertop Cooking Solutions for Florida Foodservice Operations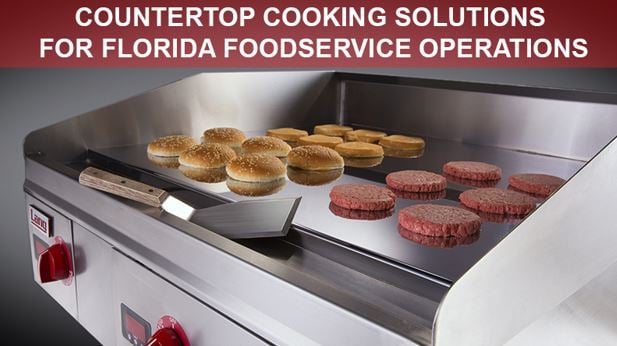 Grilling, toasting, warming, frying. No matter what method that foodservice operations in Florida are cooking with, there are a few factors to consider when selecting the ideal cooking equipment. And now, operators can look to the countertop.
One of those factors is space. Countertop cooking equipment is the logical solution for foodservice operations confronted with space restraints. Countertop equipment is smaller than traditional cooking equipment, but it's flexible and just as efficient, if not more so.
Menu diversity is a challenge without the right cooking equipment. Looking to up your appetizer menu but don't want to take up precious square footage in the kitchen? A countertop fryer will give customers the crispy onion rings, mozzarella sticks, or chicken wings they crave, without the space concerns for operators.
Not only is countertop cooking powerful, but it's portable as well. Only cooking breakfast until 11 a.m.? With a countertop griddle, place it where it needs to be in the morning, and move it to a less trafficked area for the dinner rush.
Here at Eaton Marketing, we're proud to represent the finest in countertop cooking solutions from lines like Star, Lang, and Toastmaster.

What types of Florida foodservice operations stand to benefit from this commercial countertop cooking equipment?
Convenience Stores
Most convenience stores do any cooking and food prep right in the front of the store. With less space to work with than restaurants, countertop cooking equipment is ideal for convenience stores. And with more C-stores blurring the lines with convenience and fast casual, menus are growing. That's why countertop equipment like sandwich grills, hot dog rollers, and even fryers can make a Florida convenience store a one-stop shop.
Restaurants
No one said countertop cooking couldn't be heavy duty. And for restaurants, heavy duty cooking equipment is a necessity. Countertop charbroilers, griddles, hotplates, conveyors, and convection ovens give restaurants the tools they need while saving space for more kitchen staff or other heavy pieces of equipment. With more room to operate, employees can work more efficiently in the back of the house.
Chains
Restaurant chains produce high quantities of similar product. Take burgers for instance. Chains need cooking equipment like countertop toasters and warmers that can help produce a high-quality burger in less time, with more flexibility than larger equipment.
Your Operation
Ready to take your cooking to the countertop? With a range of solutions from Star, Lang, and Toastmaster, a countertop cooking solution is within reach. Whether you're low on space, looking to expand your menu, or gain more flexibility in your operation, countertop cooking equipment can make any Florida kitchen more efficient and more profitable.
Interested in learning more about these countertop cooking equipment? Speak with your Eaton rep today to get a personalized set of solutions. Fill out the form below to get started.
Kevin Eaton is the President of Eaton Marketing & Associates and a seasoned Manufacturer Rep in Florida.