Not only is it a popular wedding gift, the toaster is also a staple for nearly every foodservice operation. Why?
Think about your menu. What's served with most breakfast dishes? Toast. The most common lunch item? Sandwiches. One of America's favorite foods? Hamburgers. What do each of those menu items need? A toaster. And no restaurant, c-store, or cafeteria menu can compete without a commercial toaster.
There are several types of commercial toasters to consider for your Florida foodservice operation. But before you delve deeper into this countertop cooking equipment, it's important to first examine how you use a toaster in your day-to-day operations.
How will you use your toaster?
Depending on your foodservice operation's size, customer traffic, and menu, your toasting needs may vary. A hotel or c-store breakfast station toasts in a batch process, with generally low volume at irregular times. On the other hand, diners and sandwich shops toast continuously in high volumes.
What are you toasting?
When considering a commercial toaster, you must also consider what is being toasted and how it will fit within the equipment. Bread, for example, is much thinner than a bagel or hamburger bun. Ensure that whatever food you will toast can fit the toaster's opening size.
How much are you toasting?
A fast food chain may need hundreds of buns toasted per hour, while a hotel restaurant might require several dozen toasted bagels during the morning rush. Your cooking volume and your time restraints can both decide the commercial toaster that's right for you.

A COMMERCIAL TOASTER FOR EVERY CONFIGURATION
From a café serving an Instagram-worthy breakfast sandwich to a diner churning out two eggs and toast orders all day, Star Manufacturing offers a variety of commercial toasters designed to match your operation's needs.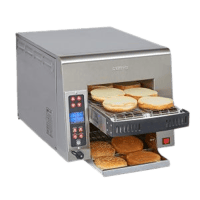 Conveyor Toaster
Commercial conveyor toasters are designed to offer maximum productivity with a wide belt and max power to heat two slices of bread, bagels, or buns in a continuous operation.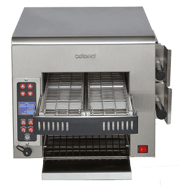 Split-Belt Impingement Conveyor Toaster
For high volume operations who want to cut heating time in half, all while toasting, melting, and broiling products, a split-belt conveyor toaster can do just that. Featuring dual belts, operators can heat two items at different temperatures and speed, all at the same time. Perfect for breakfast sandwiches!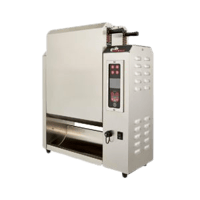 Contact Toaster
Contact toasters come in both vertical and horizontal models, depending on your spatial needs. Designed for speed, contact toasters can toast more than 3,000 buns per hour. Quick service restaurants can take advantage of this speed and sell more burgers than ever before.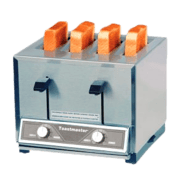 Pop-up Toaster
Commercial pop-up toasters are ideal for lower volume operations who want consistency and convenience throughout the day. With available options for bread toasters, bagel and bun toasters, and hybrid toasters, there's no limit to the menu items you can offer to your customers, all while saving space in your kitchen.
You can't have toast without dough, and you can't earn more dough without the right toaster. Schedule a free equipment assessment from Eaton Marketing and let our experts identify solutions to help make your Florida foodservice operation more profitable.