Pizza Making Made Easy with a Bakers Pride Pizza Oven
Pizza is always popular but during this year of COVID-19, its popularity has skyrocketed. Operators need to make efficiency a priority in order to meet the growing demand. Fortunately, the Bakers Pride Y600 Pizza Oven can help you do just that. This extra-wide gas oven can churn out perfectly baked pizzas at an amazing rate.

According to QSR, America might be entering a 'Golden Era for Pizza Chains' because of the pandemic. Americans have long relied on pizza delivery for a quick meal that almost everyone enjoys. When they could no longer go out to eat at their favorite restaurants, they turned to that familiar old standby instead. Pizza chains have had to scramble to keep up with the demand.
Although they were already prepared to offer delivery and carryout service, they needed to dramatically increase staff. The big pizza chains have hired tens of thousands more workers just to try keeping up with the growing demand for pizza.
They also had to find quicker, more efficient methods for producing the massive number of pizzas needed to satisfy America's increasing appetite. It takes new, heavy-duty equipment to keep up with that kind of demand. Outdated, underperforming, or undersized equipment just doesn't have the capacity or capabilities needed.
Having the Right Equipment Matters
Turning out large numbers of high-quality pizzas requires having the right equipment for the job. Whether it's a great dough mixer, a handy meat chopper, or a uniform strip cutter, having the proper equipment is essential. However, one of the most important investments you can make is a top-notch pizza oven.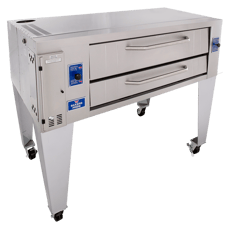 The Bakers Pride Y600 Pizza Oven is perfect for all-purpose baking but where it really excels is in high-volume pizza production. The extra-wide 60" x 36" x 8" deck was built for volume. The top and bottom heat dampers are independently controlled, which results in balanced results with every bake. Using natural or LP gas, the oven produces 120,000 total BTUH and a temperature range of 300°–650 °F.
The frame of this oven is welded together using heavy-duty, 1/4" angle iron that's sturdy enough for double stacking. The heavy-duty, all stainless steel exterior with aluminized steel interior is fully insulated. That means both consistent baking temperatures and a cooler kitchen. Even the spring-balanced doors are fully insulated.
This oven is available with a variety of options. Some of these include specified leg heights, Cordierite or steel decks, a 150°–550° F baking thermostat, and a draft flue for direct venting (not available on CE units). Side-mounted controls are also available in order to better fit your kitchen's configuration.
Additional accessories for this product include an automatic oven starter, castors for the legs, stainless steel leg covers, a 48" long deck brush and scraper with a wooden handle, and a stainless steel wood chip box.
Let Bakers Pride Help You Keep Up
Trust your pizza profits to the company that started it all in mid-1940s New York. That's when Bakers Pride invented the production pizza oven and changed the world of pizza forever. That same kind of innovation and quality can help you now in a world of COVID-19 restrictions and ever-increasing demand for America's favorite comfort food.
We would love to help you discover what a Bakers Pride pizza oven can do for your bottom line. Get a free equipment assessment from Eaton Marketing's foodservice experts.