Solutions for One of Florida's Most Stable Restaurant Types: Pizza
COVID-19 has sent people home to shelter in place while the virus runs its course. Many restaurants have closed their dining rooms but remain open for carryout and delivery. Pizza joints are making the same concessions. However, many eateries are struggling to keep their heads above water. For pizza restaurants, not only are they staying afloat, but they are also thriving throughout this crisis. It seems that people stuck at home are still craving their pizza fix.

While all the major pizza chains experienced a dip in sales at the onset of the Coronavirus, they seem to have leveled out. Two major pizza chains, Pizza Hut and Papa John's have both announced their intent to hire many new employees.

Pizza Hut plans to hire an additional 30,000 permanent employees. While it isn't going to skip on training, the company plans to expedite the onboarding process and put safety training first.

Papa John's is looking to bring on an additional 20,000 permanent new hires. The company has streamlined its hiring practice to get new people on staff as quickly as possible. It offers interviews online, over the phone, and in-person to help keep social distancing in place. To help protect drivers, the chain offers contact-free deliveries. Each driver carries a sanitization kit in their cars to protect themselves and the customers before, during, and after delivery.
Solutions to Remain Stable After COVID-19
Once the virus runs its course, pizza restaurant operators will need to keep up the momentum at their shops. Here are a few must-haves to ensure you're whipping up the right ingredients for a stable and successful pizza business.
Globe 60-Quart Pizza Dough Mixer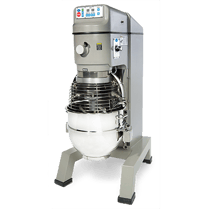 Mix up larger batches of delicious pizza dough in this 60-quart mixer. This mixer can handle 80 pounds of dough with a 50-percent absorption ratio at one time, so you can work on other prep chores. Combined with the direct gear drive transmission for high torque and the heavy-duty stainless steel bowl guard with interlock, this mixer is well suited to take on large amounts of dough at a time. You can also use the mixer for other ingredients such as chopping up mushrooms, onions, cheese, or other pizza toppings.
Housing
The housing accepts a variety of plates for chopping, slicing, shredding, and more. This housing holds the plates securely in place to make prepping meats and vegetables even easier than before. It's designed to accommodate XSP Adjustable Slicing Plates and the XPH Plate Holder. The housing and additional plates are ideal for preparing mushrooms, onions, cheese, and pepperoni.
Meat Chopper
Consisting of stainless steel knives, cutting plates, and other parts, this meat chopper comes with a stuffing tube and pusher that is a must-have when offering the freshest ingredients. There are a variety of plates that you can purchase that work with this particular model, and it is the perfect tool for creating gourmet sausage and meatballs.
Strip Cutter
Your pizza needs to look as good as tastes, and a strip cutter can keep all of your cut veggies in a uniform size. It features a stainless assembly with fixed knives for high-quality and sharp cuts. It's great for slicing meat for fajitas, salad, barbecue chicken pizza, and celery to go with wings.
We understand how hard it can be to remain competitive in the food industry. Globe's line of products can deliver total pizza prep solutions when your operation needs it most.
Streamline your pizza production with a carryout consultation from the experts at Eaton Marketing. Schedule a FREE consultation below.