Why You Should Transform Your Florida School Cafeteria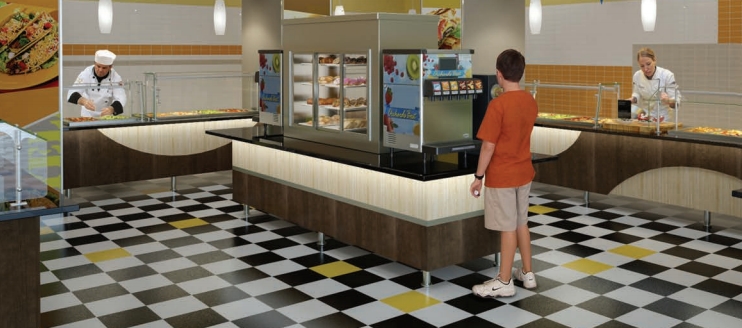 Florida school cafeterias are facing more and more challenges. From decreased budgets to low student participation, it almost seems like the deck is constantly being stacked. But with some creativity and the right equipment, it's possible for Florida's school nutrition programs to deal themselves back into the game.
What does that mean? What are the specifics? Whether you're looking to upgrade your school district cafeterias in Tampa or you're a commercial cafeteria that serves employees in Fort Lauderdale, there are a few common goals that a high-volume cafeteria should strive to achieve:
BETTER QUALITY
When you serve the kids and students in your community, it goes without saying safety is the number one concern. Make sure the equipment you use holds foods at the proper storage temperatures, whether it's cold or hot. Not only will this ensure safety, but it will also inevitable lead to higher quality meals. And higher quality always leads to…
HIGHER PARTICIPATION
A main goal of any school nutrition program or school cafeteria is to increase student participation. This allows school districts to ensure nutrition standards. In high schools, it keeps students on campus where they are less likely to encounter off-campus troubles. And one of the most important consequences of higher student participation is…
INCREASED REVENUE
In an era of shrinking school budgets, the revenue generated by school nutrition programs is more important than ever. When you have high quality meals being served in inviting spaces, revenues are much more likely to increase. In fact, studies have shown that a cafeteria makeover can increase sales by more than 50 percent.
ENHANCED SCHOOL SPIRIT AND MORALE
Lastly, don't forget the importance of school spirit and morale. By creating an inviting space that captures the school colors and mascot, you can captivate your students and make them proud of where they're eating and learning. Make sure the equipment you employ in your school cafeteria is customizable, both to fit the space and functional requirements as well as they spirit and fashion of your school.
Learn more about transforming your school cafeteria.
Change how your food is served. Take a look at the LTI Guide to Serving Food from a company that specializes in innovations for successful front-of-house serving and merchandising that can benefit any Florida school nutrition program.