2 Space-Saving Solutions for Your Florida Commercial Kitchen
Does your commercial kitchen always feel crowded? Meeting customer cravings can feel overwhelming when your workspace is only serving up chaos. But if your big flavors require counter space and large appliances, cramped kitchens may feel inevitable.

Fortunately, with high-quality devices made with crowded quarters in mind, you can find relief. Here's everything you need to know about these space (and sanity) saving appliances and why they're worth your investment.

Fight For Your Kitchen Space!
The average commercial kitchen is just over 1,000 square feet. This space can be quickly used up when filled with equipment, ingredients, and tons of flavorful dishes. Eliminating this clutter will do more than just de-stress your talented chefs. When you introduce new, space-saving appliances, you'll also introduce:
Maximized efficiency

A more organized kitchen will help to reduce confusion and order errors. These devices can create the same delicious food, delivered to your customers even faster.

A safer work environment

When dealing with hot food and sharp cutlery, the last thing you need is crammed floors and miscellaneous cords to serve as tripping hazards. With more space, you'll more be more easily able to navigate and clean the area, as well as feel more confident in the safety of your workers.

More options for your restaurant

A more spacious environment will leave the door open for new additions to your kitchen! Whether you want more top-quality chefs or an expansion on your dessert menu, freed-up space presents unlimited possibilities for improving your restaurant and customers' experiences.
Ready to get started? Check out these two great appliances to start saving space, time, and stress today.
Globe Immersion Blenders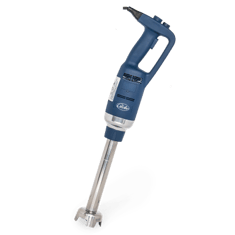 It's no secret that blenders can do some mean mixing or help your dishes reach the perfect purée. Unfortunately, countertop blenders can limit mobility, speed, and occupy more space than you can afford.

Globe's Immersion Blender will not only emulsify your food — it emulsifies these typical blender blunders into opportunities for innovation. It's packed with features that keep ultimate convenience and top-quality cooking in mind. Take advantage of its:
7.5' power cord: Blend anywhere in the kitchen... or even on the go!
Detachable blending stick: Easily store and clean safely in your dishwasher
Powerful motor: Available in 500 or 750 watt models, so you can smoothie smoothly
Ease of assembly: No tools are required to remove or install blending sticks
Not only will this handheld tool be ready wherever you need it, its many customizable features mean that it will do the job however you need it. Blending sticks are available in six different sizes, with the additional option for a 10" whisk attachment.
Easily replaced blades and a 1-year warranty means that you can chop 'til you drop — with no fear and no clutter.
TruVection Ovens
A TruVection oven by Southbend offers the reliability of a full-size convection option without occupying as much space. Its low-profile provides a versatility that makes it a perfect addition to any kitchen.

Looking to condense existing appliances? TruVection is strong enough to be worked on top of and light enough to be stacked on open surfaces. Its top can be converted into a stovetop or prep spot, while its bottom can rest on a counter or on wheels that make for easy transport. To increase cooking capacity without taking up more lateral space, up to three TruVection ovens can be stacked together.

These ovens allow you to maximize space usage without sacrificing the perks of a traditional convection oven. They employ soft-heat mixing technology that eliminates hot and cold spots in your bakes, ensuring an evenly-cooked end result every time.
The Best of Both Worlds
It's time to stop saying "Excuse me!" more than you're saying "Order up!" Treat your kitchen to high-quality new appliances without sacrificing valuable workspace. Check out Immersion Blenders and TruVection today!
If space saving is important in your operation, we'd love to help out by offering up a free foodservice equipment assessment for you and your staff. Learn all about how Globe blenders, TruVection ovens, and other foodservice equipment can boost performance and productivity from the experts at Eaton Marketing.