5 Cocktail Trends to Keep an Eye on in 2021
The Covid-19 pandemic immensely changed consumer drinking habits and greatly influenced what and how we drink. Many of the habits developed in 2020 will continue into 2021. Here are five exciting cocktail trends we expect to see this year.

DIY Cocktails
Consumers experimenting with cocktails at home was already a trend before the pandemic, but lockdowns and on-premise closures accelerated this movement in 2020. Thanks to the limited access to bars, many people looked into exercising their at-home bar. The fact that many of the products and ingredients and drink-making kits are readily available made it easier to hop on this trend. Many bars and restaurants have pivoted to take-home kits as an additional revenue stream for their business. Some bars also offered virtual cocktail masterclasses encouraging people to make cocktails in the comfort of their home under their expert guidance.

According to the 2020 Consumer Report by Drizly, an online alcohol delivery platform, experienced a 600% increase in sales for cocktail ingredients such as liqueurs, schnapps, bitters, syrups, and mixers. The report also reveals that 52% of consumers said they'd made more cocktails at home in the past three months, and 54% of them predict they'll continue to mix more cocktails at home through 2021.
Drink Delivery Endures
The pandemic forced many businesses to get creative, and bars are no exception. To stay afloat and retain their customers, bars offered pre-mixed bottled cocktails as well as alcohol delivery services. Local liquor stores and online liquor retailers reaped the most benefits, with Drizly reporting a 3.5x increase in online liquor sales in March.

The Drizly report also found that 71% of consumers anticipate at least 50% of their alcohol shopping to be online vs. in-store in 2021. Expect to see delivery-friendly formats like bottled cocktails and canned wine to grow.
Popularity of Cannabis Cocktails to Steadily Rise
The U.S. is approaching a marijuana legalization tipping point. One-third of all Americans now live in a state where recreational cannabis is legal. Recently, voters in Washington D.C. and Oregon endorsed the use of psychedelic mushrooms for therapeutic use. These developments will significantly influence the alcoholic beverage industry.

In 2021, drinks that can offer a more psychedelic experience, promote stress relief and relaxation, have medicinal benefits, and don't result in a hangover will be popular in those states where cannabis and psychedelics are legal.
Zero-Proof Cocktails and Cleaner Cocktails
Consumers are growing more conscious of what they're putting into their bodies. Zero-proof cocktails offer you the taste and depth you get from a cocktail and the social aspect of drinking without carbs, alcohol, or calories. 2021 will see more consumers looking for healthier, fresher cocktails. Expect to see an increased demand for cocktails and zero-proof cocktails with lower ABV and ingredients such as herbs, vegetables, green tea, honey, ginger, and lemon.
Hard Seltzer Continues to Grow
While the low-and-no category took a backseat at the start of the pandemic, it picked up in summer and is poised to continue to grow through 2021. The relaxation of restrictions also allowed low ABV drinks and hard seltzers to come back on the scene, with hard seltzer growing by 254%.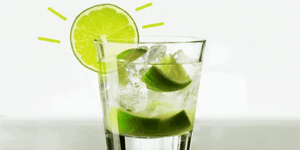 In the year ahead, consider adding hard seltzer to your menu if you don't have it already, and look for ways to stand out. Consider hard-seltzer-based cocktails, try new brands and flavors, collaborations, local options, and even let customers customize their hard seltzer with ingredients or flavored syrups.
Bottom Line
With the possibility of a vaccine on the horizon, things may return to normal in 2021. But the habits and trends that developed in 2020 will come into their own in the year ahead. As you implement your 2021 foodservice menu planning strategy, be mindful of these trends and changing consumers' drinking habits so you can be better prepared to meet those needs.
Let the experts at Eaton Marketing help you discover the latest trends in cocktails, beer, beverages, and more. Reach out for your FREE Bar and Beverage Assessment below.