Cooking Quickly With The El Bandido
Getting orders out to customers quickly is the goal of every restaurant. Any delay in service could affect profits if customers get tired of waiting and leave. As takeout and delivery orders continue to rise, preparing food in a timely manner is as important as ever. Having a TurboChef El Bandido rapid cook oven can help.

Serving Customers Quickly
As customers get accustomed to ordering food online, they also expect their orders to be prepared in a timely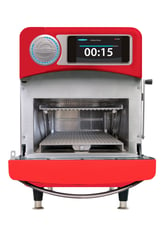 manner. According to Food Delivery News, the longest time people are willing to wait for food to be delivered is 40 minutes. Which means the time between order and delivery is narrow. Studies also show that customers who have a shorter wait time are more likely to place a repeat order at the same restaurant.
Give customers a great customer experience by having food ready quickly using the El Bandido. Using impingement air technology, the El Bandido can blow hot air above and below the food cooking. Which improves cook times by having food cook quickly and evenly.
A Variety of Choices
Restaurants that have a good variety of menu choices can help appeal to more customers. With a smart menu system that can store over 250 recipes, even the smallest of foodservice businesses can offer multiple food options. And it helps with labor issues that the industry is still seeing.
There's no limit to the different foods that can be cooked, including pressed sandwiches. The first rapid cook oven that also can be used as a panini press, the El Bandido allows operators to initiate the panini press from outside the unit. Letting restaurants prepare breakfast sandwiches or side dishes. And since it's ventless and has a small footprint, the El Bandido can go anywhere you need it, helping create new profit centers.
Learn more about TurboChef's El Bandido rapid cook oven and schedule a free foodservice assessment with one of our experts today.
Kevin Eaton is the President of Eaton Marketing & Associates and a seasoned Manufacturer Rep in Florida.