How to Deliver Fast and Delicious Coffee
Grabbing a morning coffee on the way to work or school is part of the typical routine for many. However, the COVID-19 pandemic has changed foodservice operation, including coffee runs, and has customers looking for safer ways to get their caffeine fix. The times of waiting around in a large group of people for a customized coffee order is over. These days, customers are looking for safe, fast, and effective ways to grab their order and go.

Impact on the Foodservice Industry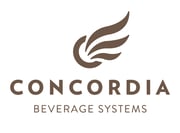 The COVID-19 pandemic has changed the way coffee, and food in general is served. Protocols are now in place to keep both customers and employees safe from the spread of the virus. Increasing cleaning and disinfecting guidelines, promoting social distancing, training employees about food safety, and ensuring their compliance are just a few of the new rules businesses must face in order to mitigate risks during this new normal.

And while takeout, delivery, and social distancing dining are the new forms of foodservice, there are opportunities to help customers achieve quick and safe service.
Grab & Go Coffee
While sitting around shooting the breeze with friends or colleagues in coffee shops or school cafeterias is no longer advised, that doesn't mean it's impossible to get a great cup of coffee. The Concordia Xpress Touch brews a cup of joe similar to local coffee house baristas, but in a safe, human contactless way.
The Scoop
Looking for coffee service that is delicious, fast, and full of variety? That's exactly what the Concordia Xpress Touch delivers. Providing more than 1,000 drink combinations, this coffee maker can deliver a finished product in 25 seconds. And it isn't just limited to basic coffee options. The Express Touch includes espressos, lattes, cappuccinos, and even steamed milk and hot water. Brewing a hot latte or an iced cold coffee are only some of the options available with this machine.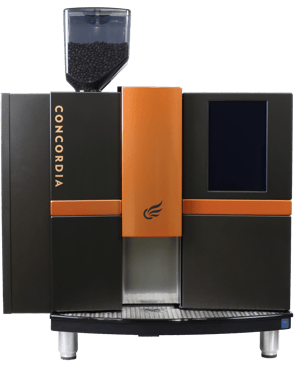 There's also an EspressJet Flavor System that allows the user to choose between a variety of flavors. This means at the simple touch of a button, creating mocha lattes or French vanilla coffee is simple and easy enough for a novice user. The best part is the user can make their beverage according to their specifications — that means choosing the grind, volume, flavoring, and even the temperature.

The touch screen helps businesses customize their coffee experience and allows users to have control over their beverages. It's not only easy to use, but has an automatic cleaning system that takes only 10 minutes.

The best part about all of this is that the customer is delivered a high quality, richly brewed beverage of their choice.
The Benefits
Whether in a convenience store, grocery store, or hospital setting, adding the Concordia Xpress Touch improves any coffee situation. The touch screen allows customers to input their orders, limiting human contact. The machine delivers a quality cup of coffee in seconds, reducing backlog and allowing for increased customer orders.

The quick turnaround time (some orders only taking 25 seconds) will decrease the amount of time customers spend waiting and will hopefully limit any potential spread of the virus. The bottom line is that as the world shifts and changes because of the coronavirus, the foodservice industry needs to as well. Implementing machinery like the Concordia Xpress allows for efficient coffee ordering and distribution while keeping an eye on customer safety and satisfaction.
Ready to improve your coffee service program? Reach out to the experts at Eaton Marketing to help you stay up to speed with the latest coffee trends. Click below to receive your FREE beverage consultation.