How to Maintain the Perfect Crispiness with Your Fried Foods
There's something about taking a bite of a delicious treat and feeling that tender crunch in your mouth. From that perfectly cooked crispy bite, it's almost as if it makes the flavor ten times better. Sounds crazy but you know it's true, right? Creating and keeping that crispy delight when it comes to your fried foods can be a little harder than expected, but it's not impossible and it's definitely worth the extra steps when it comes to your foodservice.

So, how do you deep-fry your dish of choice and make sure that it turns out with the perfect balance of crispiness and flavor?

Meet the Crisp 'N Hold
Carter Hoffmann's Crisp 'N Hold Fried Food Stations offer the perfect solution to your crispy fried food needs. Choose between countertop and drop-in stations that help maintain the heat and quality of your cooked foods. Designed to hold several items and limit oils and vapors from seeping in, these stations offer protection to help prolong the crispiness.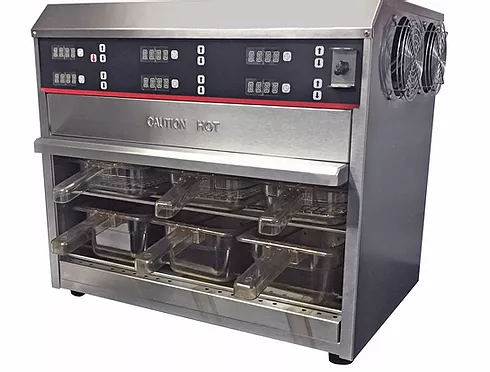 For larger commercial spaces, you can utilize the Counter-Top Vertical Crisp 'N Hold and Floor Standing Vertical Crisp 'N Hold to house higher quantities of your dishes. These stations allow you to continue producing fried foods without stopping the line or overflowing storage pans. They're perfect for rush hour servings and provide accommodations for keeping your cooked dishes warm as well as helping maintain the crispiness.
Benefits of the Crisp 'N Hold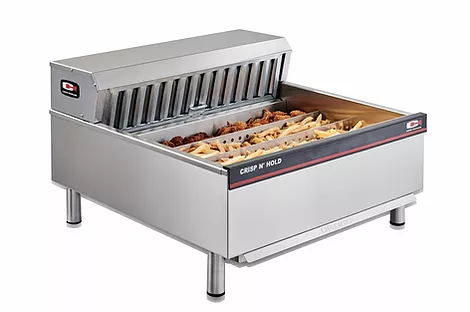 Heating lamps only offer so much heat, but the Crisp 'N Hold stations manage air circulation to remove excessive steam and vapors during cooking. This allows you to maintain the crispiness of food up to 4 times as long as a heating lamp or other options.

While you're able to maintain the quality of your crisp better, you can also enjoy having less waste when it comes to food products. This not only saves you money, but it saves you energy and reduces your carbon footprint by preventing you from having to cook additional food during the workday.

Using compact cabinets with dividers, you can produce multiple items on your menu and keep them ready to serve conditions in one convenient location. This allows you to take up less counter space and kitchen space, optimizing the efficiency of your kitchen overall.
Maintain the Crisp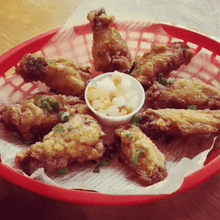 In addition to utilizing Carter Hoffman's Crisp 'N Hold Stations, there are few other methods you can use to assist in keeping your fried foods crispy.

Use perforated sheets/cookie sheets rather than paper towels to help fried foods hold onto their crunch longer. This prevents your food from soaking in extra oil and becoming soggy.
Routinely change out the oil to keep things fresh and hygienic, as well as to help your food cook properly. This can assist with oil not heating up as hot as it needs to.
Deep-fry certain foods twice. Foods like fries can handle being fried twice and will become crispier if you fry them, let them sit a while, and then fry them again. This also helps prevent oils from soaking and settling in them.
Let the experts at Eaton Marketing help you with your food holding, warming, and transporting needs. Click below to get your FREE foodservice equipment assessment.