The Key Benefits of Using a Pitco Solstice Fryer in Your Florida Kitchen
Having a reliable fryer is an important component of any successful restaurant or foodservice operation that's serving up our favorite crispy comfort foods. If your foodservice business is new to frying, or if you're ready to upgrade your equipment, Pitco's Electric Solstice Fryers and Gas Solstice Fryers feature groundbreaking technology that make it all possible to have consistently delicious fried foods when you need them the most.

Pitco's Solstice Gas Fryers
The Solstice Series is attracting a lot of positive attention. Pitco's patented automatic self cleaning burners enhance the air gas mixture by utilizing more primary air. The design creates better cooking conditions and allows for better temperature recovery.
Each time the product is powered on, it undergoes a quick 30 second automatic cleaning routine. Universal control and the ability to customize each product down to the cabinets are just a few more reasons to consider investing in Pitco's Solstice Gas Fryer.
A Closer Look at Pitco's Solstice Electric Fryers
Pitco understands that no two kitchens or cooks are the same, and they like to provide their customers with options. The company's Solstice Electric Fryers are a testimony to that. These electric fryers are allowing people to cook more product more efficiently. The safe mixed element design is one of the many features that sets this product apart from its competitors.
Eliminating the possibility of oil migration through pivot components effectively contains dangerously hot elements, all while helping create a safe work environment. The mercury-free relays are another reason Pitco's electric fryers are so popular. Both of Pitco's Solstice Gas and Electric Fryers use full port drains that provide "quick, clog-free draining." Operators will also appreciate the lower cost of ownership due to easier maintenance.
The Innovative Technology Behind Pitco's Solstice Fryers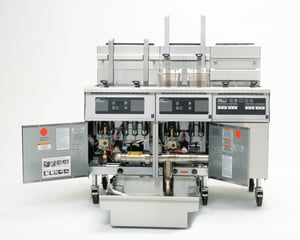 Historically speaking, many commercial fryers have chosen between the open pot design or tube heating, and when it comes to tube heating, Pitco's fryers have become one of the leading products in the foodservice industry. Each fryer comes equipped with the standard Solid State control, but customers also have the ability to mix and match fryer sizes and control options enabling them to create customized combinations that will allow their kitchens to be even more successful.
Pitco's innovative designs behind the Solstice burners are what allow for improved air-gas mixture and help boost the thermal efficiency of the fryer to an industry leading 70 percent. On top of all of that, Pitco's Solstice fryers eliminate the need for blower systems. The impressive and groundbreaking technology is a testimony to Pitco's products and reputation.
Are your fried foods in need of a reboot? Reach out to one of the experts at Eaton Marketing to discuss how a Pitco Solstice fryer could work in your foodservice operation.