Increase Your Florida Kitchen's Production with this Conveyor Oven
As we continue to find ways to combat the ongoing pandemic, finding a way to continue serving your full menu can feel like a stretch. For many, staffing is limited, indoor dining isn't really a thing in most locations, and delivery or curbside is the new norm. While things look a little different for all of us based on city and location, having a diverse menu in the kitchen can help when it comes to having customers with diverse taste buds.

MEET THE CTX CONVEYOR OVEN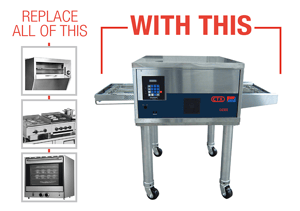 Everyone enjoys different food, and when consumers are looking for a new place to call their favorite on-the-go lunch spot they want somewhere that has a menu that's all too tasty. When you're the foodservice operation with a delicious menu that offers variety, everyone wants to dine with you so that they can try all the best dishes. Plus, any chance to support a local business during these difficult times is more than the latest trend.

Fortunately, for busy days when customers are calling in order after order, Middleby Marshall has crafted the perfect solution that lets you keep serving with one convenient operation. The CTX Conveyor Oven is a heavy-duty electronic oven that allows you to prepare and cook all of your items in one location.

The oven consists of one cooking chamber with an 18" wide stainless steel conveyor belt to ensure that your cooking operation never slows down. With touch control features you can adjust the temperature as needed. The unit also allows you to stack up to four units, further helping you get through rush hours with ease. If you need to move it at any time, it's designed with wheels to make things like sanitizing your kitchen a breeze. Check out the video below to learn more about the CTX Conveyor Oven.
EASY KITCHEN SOLUTION
One of the best opportunities that the CTX Conveyor oven offers is the ability to cook almost anything. No matter what your needs are you can rely on it for grilling, baking, broiling, searing, steaming, and even sous vide cooking within a single unit. Once you've finished up for the day, set the controls to a designated time, and let the oven self clean the interior.
To name just a few things you can cook with the CTX:
Pizza
Paella
Ribs and chicken
Burgers
Not only does this solution help with serving time, but it makes the changes and current frustrations in the foodservice industry seem a little less daunting. Worry less about how you're going to continue operating during these difficult times and focus on how many new customers you're going to be able to serve with this incredible oven in your kitchen.
We understand that the future is unknown and how days don't feel quite normal with so many rules and regulations in place, and that's why our experts are working tirelessly to ensure you have the best opportunities to continue your foodservice operation's success. We want you to have the best chance at thriving during the ongoing pandemic.
Want to know more about the CTX Conveyor oven and how it may benefit you? Get your free foodservice equipment assessment today, and find out how you can improve business and increase sales.
Kevin Eaton is the President of Eaton Marketing & Associates and a seasoned Manufacturer Rep in Florida.