Measure the Perfect Pour with the SkyFlo Liquor Management System

Bar management is both art and math. The art of serving excellent drinks, creating a welcoming atmosphere and providing excellent customer service. And the math of reducing pour costs to a minimum to maximize profits.
SkyFlo by Lab2Fab will take care of the math so your bartenders can put all their energy and skills into the artistic side of the trade.

SkyFlo is a spout like you've never seen before. It's a wireless device that pours the exact quantity of wine, liquor, or beer every time and gives you complete visibility of the four main sources of overspending, which are silently digging holes in your bar profits.

Overpouring: Serving more alcohol than needed is one of the easiest ways to increase costs.

Inconsistency: With different pours every time, you're creating inconsistencies in taste and poor customer satisfaction. That will hurt your business twice -- with the increased cost of the replacement drink and, even worse, missed revenue for lost customers.

Unrecorded Free Drinks: Complimentary drinks can be great for marketing and customer satisfaction, but not knowing if you're giving away more than you planned will hurt your business.

Unrecorded Spilling: Spills happen to even the best bartenders. But if that happens too often, your staff may need more training. SkyFlo can help with this knowledge. SkyFlo gives a name and a number to all this data, with amazing features.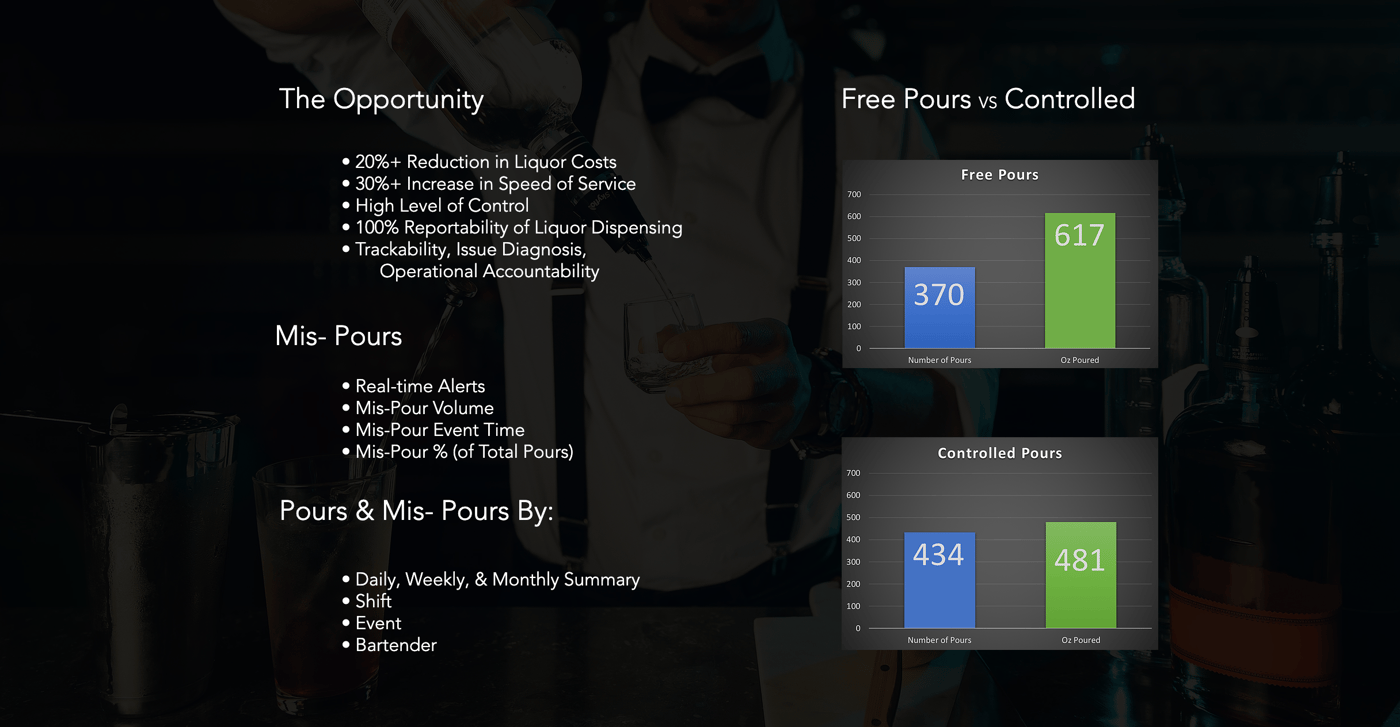 Four Preset Quantities. You can pour exactly the quantity you need for each type of alcoholic drink, not one drop more and not one less. Even if the bottle runs out mid pour, you can easily transfer SkyFlo to the new one and complete it with the same precision.

Powerful Reporting. All pouring data is collected and sent wirelessly to SkyFlo management software. From there, you can have a real-time overview of mis-pours and sales data by brand, date and much more.

SkyFlo will give you complete control and visibility of every single drop of alcohol that gets out of any bottle and keg in your operation, and actionable data to reduce costs and increase profitability.

Pour. Manage. Profit.
Those are the general ideas behind SkyFlo, and those are three of the principles we live by here at Eaton Marketing when it comes to helping operators maximize the potential and profitability of their bar and beverage operations.
Schedule a free bar and beverage consultation with one of our experts, and let us show you new ways to help grow the potential of your beverage service.