Why Every Florida Wine Program Needs Wine Column Refrigeration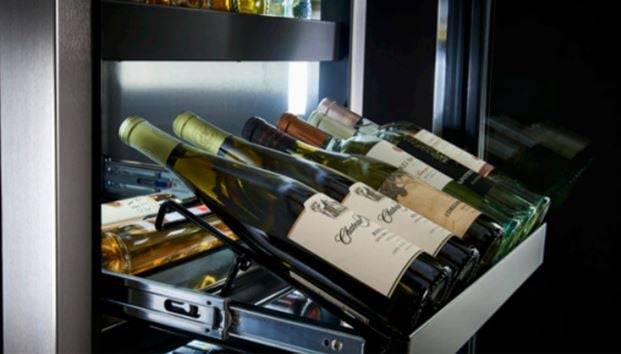 According to the Wine Institute, Americans consumed 949 million gallons of wine in 2016, and that number has increased annually for over two decades. It's vital for restaurants with wine programs to capitalize on this demand by offering a wide variety of wines that are served and stored in ideal temperatures. And that all hinges on wine refrigeration equipment.
[SEE ALSO: The Enemies of Wine and How to Combat Them]
Perlick recently introduced Wine Column Refrigeration, the latest addition to its lineup of bar and beverage innovations. This heavy-duty wine column refrigeration focuses on improving wine preservation, presentation, and expanding wine menus. For Florida wine programs, that means a more robust and fresher wine list than ever before. Column refrigeration puts a whole new spin on wine storage and display.
How? Here are three ways that wine column refrigeration can benefit any bar or restaurant's wine program:
HIGH CAPACITY
An expansive wine list means lots of inventory. With traditional refrigeration, it meant using several units to hold multiple varietals of wines, each needing their own specific holding temperature. Perlick's Wine Column Refrigeration offers high capacity storage alongside single or dual zone temperature control. With column refrigeration, operators can use vertical space to their advantage and display a large number of reds and whites in the same unit (over 90 bottles in many cases).
SMALL FOOTPRINT
Some wine lists are a direct result of space restrictions of a restaurant or bar. In the past, smaller operations were simply limited to the types of wine available because there was no place to store them. With wine column refrigeration, the 2' by 2' footprint takes up minimal space in a restaurant. By expanding up and not out, this gives operators the flexibility to bring their wine storage into more customer-facing environments to display an expansive selection of wines.
ENERGY EFFICIENCY
In the current foodservice landscape, energy efficient equipment is crucial for operators looking to meet energy standards and save on energy costs at the same time. Using R600A Isobutane refrigerant, wine column refrigeration from Perlick is environmentally friendly with zero ozone depletion and minimal global warming potential. Combine that with energy efficient tinted glass and a variable speed compressor that runs quieter and uses less energy when necessary, column refrigeration can lower operating costs while increasing profits.
Learn more about increasing the profitability of your Florida wine program through wine column refrigeration by reading the Perlick Wine Column Refrigeration Guide.
Kevin Eaton is the President of Eaton Marketing & Associates and a seasoned Manufacturer Rep in Florida.